Christ's Lutheran Church in 1841
Pastor Adolphus Rumpf (often spelled Rumph), conducting services at the second church building, designated the "Church on the Rocks," because it sat on a rocky ledge overlooking the Sawkill about ¾ mile east of our present location (that is, north of present-day Route 212, across from the country club).
The Woodstock Region in 1841
---
Milo Barber's inn in Shandaken on the shore of the Esopus was a favorite of trout fishermen. The oldest inn in Roxbury, a noted haunt of fishermen, was now called the Hendrick Hudson House and was growing more and more elegant.
Region historian Alf Evers(1)
---
Excerpted from Evers, Alf, Woodstock: History of an American Town [Woodstock, NY: Overlook Press, 1987], pp. 23ff, 41, 150ff. (Close)
---
has described the Catskills as largely a region of absentee landlords and struggling tenants, in a manorial relationship more or less transplanted to upstate New York from medieval Europe. The principal landlord for tenant farmers and tavern keepers in the Town of Woodstock, and for all his other Catskills holdings of some 66,000 acres, was sickly and increasingly mad Robert L. Livingston, 66, dwelling in his Clermont estate on the other side of the Hudson.

Livingston had long been having trouble managing the resources on his manor lands. Trespassing and unlawful lumbering had become part of the Woodstock way of life by indigent tenants (termed "beggars" or "rascals" by Livingston agents), in spite of deputy sheriffs being sent to Woodstock to discourage the practice. Tenants were becoming ever more bold in their resistance to Livingston demands for rent payments, especially with news of the simmering Anti-Rent agitation to the north.
---
Anti-Rent simmering
Hostilities among tenant farmers in the Catskills and the lands in the Helderberg Hills to the north (particularly those on the Van Renssalaer "Manor of Rensselaerwyck"), who were objecting to the landlords' attempts to collect past-due obligations of hundreds of thousands of dollars in wheat and labor (as well as about a million fat hens), seethed after the quenching of their uprising in 1839 by the Governor's promise to harangue the legislature to amend laws enshrining feudal land tenure obligations such as the following:
Together with all and singular the trees, woods and under woods to be made use of on the premises and nowhere else; saving and reserving to the party of the first part, her heirs and assigns, all water courses suitable for the erection of mills, with a right to erect mills or other works thereon with three acres of land adjacent, thereto; and also saving and reserving a right to erect dams and out ditches for the use of such water work. And also saving all mines or minerals found on the devised premises with the sole right to dig for and work the same, the said party of the first part compensating for any damage sustained thereby.…

Yielding and paying therefore during the continuance of this present lease, yearly and every year the yearly rent of two fat hens and one day's labor, with a wagon, sled or plough with a yoke of oxen or pair of horses and a driver, at such time and place within ten miles as the party of the first part, her heirs and assigns shall require.…

And also it is further covenanted and agreed that upon every sale or assignment of the said premises… the party of the second part shall pay to the party of the first part one tenth part of the consideration money.(2)

---

Quoted in "Welcome Page of the Delaware County NY Genealogy and History Site" (http://216.239.41.104/search?q=cache:WUORtZrvW34J: www.rootsweb.com/"nydelawa /books/murraysectionVIII. html+Delaware+County,Moses+Earl ,rent&hl=en&ie=UTF-8). (Close)

---
Just as in the previous year, however, the legislature, dominated by the great landlords and their moneyed allies, did nothing about it. Moreover, many ordinary citizens felt no sympathy with the Anti-Renters, for they fancied how romantic it was that Old World ways described by Sir Walter Scott novels had survived in New York State.

The evils of this feudal system bore heavily upon the farmers in these rough and unproductive regions. To spare from their little wheat crops enough to pay the landlord his rent was a pinching process, which compelled the families to live upon rye and buckwheat. Or if the rent was payable in money, much of the returns from their little dairies was swallowed up for this insatiable purpose. Encouraged by Dr. Smith Boughton of East Manor (who had participated in the 1837 Papineau Rebellion in Quebec) and by Thomas Ainge Devyr (who had fled England after the suppression of the 1837 Chartist Rebellion), farmers were protesting in Albany, Rensselaer, Columbia, Ulster, and Schoharie counties, many of them planning forcible resistance.
---
The New York Crown and Cylinder Glass Company of Bristol (Shady)--founded 31 years earlier by Stephen Stilwell as the Bristol Glass, Cotton and Clay Company--was still in business, although it was suffering ups and downs. The company shipped its products down the Glasco Turnpike to the Hudson River landing in Glasco (from "Glass Company") and then by sloop on to New York City. Unfortunately, its operation required vast amounts of fuel, principally wood, which denuded the forests around Woodstock and, as a result of the deforestation, caused massive erosion of the mountainside soil.
One of Woodstock's only resident doctors was Dr. John Fiero, who died this year at the age of 36. Another Woodstock doctor was Stephen L. Heath, whose house still stands just to the east of the old brick post office building on Tinker Street. Dr. Heath was active in politics and was commissioner of schools. He would ride his horse all the way to the end of Mink Hollow to deliver a baby--for a fee of $5.00 ($94.10 in 2006 dollars). A doctor in those days could pull teeth, bleed a sufferer, and lance a boil, as well as other medical duties. There was no hospital available to Woodstockers, but many women were skilled in nursing and midwifery. There were no drug stores, but the remedies most in demand were available at the general store, including opodeldoc, a soap-based liniment; camphor; spirits of hartshorn; castor oil; gum guaicum; syrup of squills; and opium and its derivatives, such as laudanum.
Betsy Booth was a local herb doctor, nurse, and midwife, who had learned her craft from an "Indian doctor" on Tinker Street. She is said to have been able to cure consumption by herbal means.
The New York State Fair was established in Syracuse, dedicated to advancing agriculture and the home arts.
The United States in 1841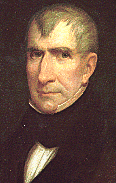 Martin Van Buren (Democrat), 61, was President, succeeded on March 4 by the newly elected President, the simple old soldier William Henry "Old Tippecanoe" Harrison, 68 (pictured right), who was supposed to be under the control of his handlers, the Whig leaders--his appointed Secretary of State, Daniel Webster, 59, and Kentucky Senator Henry Clay, 64 (considered the uncrowned "king" of the Whigs). Webster had the impudence to give him a ready-made inaugural address, but Harrison insisted on delivering a turgid Plutarchian address derived from schoolboy memories and of which he was very proud. He finally consented to let Webster revise it. Webster spent hours and hours with the revision, arriving late and haggard to a dinner party. When his hostess asked if something terrible had happened, Webster replied(3):
---
Quoted in Morison, Samuel Eliot, The Oxford History of the American People, New York: Oxford University Press, 1965, pp. 458-59. (Close)
---
Madam, you would think something had happened, if you knew what I had done. I have killed seventeen Roman proconsuls as dead as smelts.
Harrison insisted on delivering the boring, long-winded address, disdaining hat or overcoat, in the coldest inauguration day in history, and he took an hour and forty minutes to deliver it (the longest inaugural address in history, to go along with the coldest inaugural day). Former President John Quincy Adams, 74, now a Congressman from Massachusetts, wrote the following in his diary(4):
---
Quoted in ibid., p. 459. (Close)
---
Harrison comes in upon a hurricane; God grant that he may not go out upon a wreck!
Not surprisingly, the new President contracted pneumonia, which was complicated by a congestion of the liver. While a horde of "hard-ciderite" Whig supporters descended upon Washington clamoring for the spoils of the regime change, and while Webster and Clay regarded Harrison as no more than an impressive figurehead--the President, residing in the damp, unheated White House, grew ever frailer from his illness.

Historian Samuel Eliot Morison described his treatment(5):
---
Quoted in ibid. (Close)
---
The doctors, after blistering and "cupping" him, administered violent emetics and cathartics; then switched to opium, camphor, and brandy; finally, in desperation, administered Indian medicine men's remedies such as crude petroleum and snakeweed. These finished him--Tecumseh's revenge, perhaps.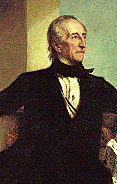 Just 4 weeks after his long speech, President Harrison died, to be succeeded by his Vice President, six-foot-tall John Tyler, 51 (pictured right), the first Vice President to succeed to the Presidency.

President Tyler declared Sunday, May 14, to be a day of national fasting and prayer in honor of Harrison. Ministers used the occasion to preach hortatory sermons, and 138 of them made it into print. Obviously, according to them, the death of a President after only a month into his term was evidence of God's punishment for national sin. But what sin? Most of the preachers cited sabbath breaking and immorality. Several Northern preachers pointed to slavery, but Reverend Mr. Gadsden of St. Philip's in Charleston was certain that God's wrath had been aroused by
current wild notions of equality… [and] organized movements to break down distinctions among men.(6)

---

Quoted in ibid. (Close)

---
The newly elected 27th Congress was in session.
A dollar in 1841 would be worth $18.82 in 2006 for most consumable products.
Thousands of Irish immigrants came to the United States, at an annual rate of 78,000. Note the conditions in Ireland that led to the massive emigration of the Irish. Some 43,000 German immigrants came to the United States.
The U.S. population had reached 17 million; 12.5 percent of them in cities over 8,000. Fewer than 140 towns in the U.S. had a population of 2,500 or more. The population of New York City was 313,000; some 50,000 immigrants passed through the city each year.
President Tyler was only nominally a Whig. Beak-nosed, keen-eyed, spare-framed, long-faced, thoroughly aristocratic, he made a humorless President. Though he had asked all of Harrison's Cabinet to remain in office, the new President was stubbornly attached to principle, and he refused to take dictates from anyone--including his Secretary of State and the other Whigs, such as Clay, who had elected him with the previous year's "and Tyler too" campaign jingle (and who had put him on the ticket mainly to attract the minority, fringe wing of the Whigs, the Jeffersonian anti-tariff, anti-bank states' righters). Congressman Adams wrote the following in his diary:
Tyler is a political sectarian of the slave-driving, Virginian, Jeffersonian school… with talents not above mediocrity and a spirit incapable of expansion.(7)

---

Quoted in Garraty, John A., The American Nation: A History of the United States, New York: Harper and Row, 1966, p. 306. (Close)

---
On the other hand, another former President, Andrew Jackson, 74, wrote of the death of Harrison and the accession of Tyler:
A kind and overruling providence has interfered to prolong our glorious Union… for surely Tyler… [will] stay the corruptions of this clique who has got into power by deluding the people by the grossest of slanders.(8)

---

Quoted in Wellman, Paul I., The House Divides: The Age of Jackson and Lincoln, from the War of 1812 to the Civil War, Garden City, NY: Doubleday & Company, 1966, p. 206. (Close)

---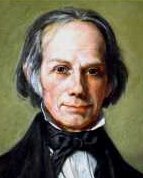 Led by Senator Clay, pictured here, the newly elected Whig-dominated 27th Congress, intent on what they regarded as financial reform, passed a law ending the independent treasury system, and President Tyler, disarmingly agreeable, signed it. The President genuinely admired Clay, hoping to cooperate with and even defer to Congress, whose members he called the "more immediate representatives" of the people.
But now Clay, still bitter over being passed over the preceding year for the Whig nomination and arrogantly contemptuous of the new President, pushed through legislation setting up a "Fiscal Bank" (a new Bank of the United States). Tyler, a typical states'-rights Southerner notoriously hostile to any centralized bank, vetoed it on both constitutional and practical grounds. He saw no difficulty with what he called such a bank in Washington, but not with a powerful institution that could set up branches in the various states without their consent. A drunken mob of Clay supporters gathered late at night near the White House, shouting: "Huzza for Clay!" "A Bank! A Bank!" "Down with the Veto!"
The Whig leaders in Congress tried again; Senator Clay exclaimed:
Tyler dares not resist. I will drive him before me.
Attempting to pacify the President's objections to a "Fiscal Bank," Congress passed a bill calling for a "Fiscal Corporation." Tyler, digging in his heels, again vetoed the bill.

Whigs referred to the President, who had been elected only as Vice President, as "His Accidency." They also called him "the Executive Ass." Tyler was widely burned in effigy, and he received many death-threat letters. A wave of influenza then sweeping the country was referred to as the "Tyler grippe." The President's enemies regarded him as really a Democrat in Whig clothing, and a caucus of Whig Congressmen formally expelled him from the Whig Party (to the delight of Democrats). Many in the House of Representatives considered impeachment. President Tyler disagreed so utterly with his entire official family that he had inherited from Harrison--that is, his Cabinet, which he had originally asked to stay on under his accidental administration--that soon every single member except Secretary of State Webster resigned.

Drummed out of the Whig Party, President Tyler attempted to build a party of his own. For the duration of his term, there was continuous political squabbling in Washington, aggravated by sectional rivalries.

Here is an example: The President was cool to Senator Clay's moves to distribute to the states the proceeds from the sale of public land, thereby reducing federal revenues, a reduction that would justify raising the tariffs. Secretary of State Webster estimated that there were 30,000 to 50,000 settlers (squatters) on federal lands west of Wisconsin that had not yet been offered for sale. Clay, anxious to win Western votes for his scheme to ultimately raise tariffs, agreed to support a preemption bill that would legalize the right of squatters to occupy unsurveyed land and to have first rights (before an auction) to buy it later at $1.25 per acre ($23.50 per acre in 2006 dollars). The Preemption Act that passed Congress gave each squatter family head on public land the right, after 14 months of residency and after the land had been surveyed, first rights to buy as much as 160 acres at that minimum price, provided that he build a house on the land and put the land under cultivation. Southerners had insisted on an amendment to the measure, pledging to stop distribution if the tariff surpassed the 20% level. When the Whigs ignored the proviso and attempted to enact a higher tariff, Tyler vetoed the bill.

On September 28, 1841, Frederick Douglass, a black abolitionist resident of Lynn, Massachusetts, was forcibly ejected from an Eastern Railroad train (which ran from Boston to Portland, Maine) for refusal to ride in a "Jim Crow" car. This was the second time that month that he had peacefully insisted on the right to remain in his seat with his traveling companions. (He frequently traveled to speak at abolitionist events.)
---
Tensions with the United Kingdom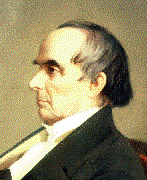 Webster, pictured here, was busy negotiating with the British on the boundary line of Maine and New Brunswick. Some of the inhabitants of the Aroostook region were shooting at each other in the so-called "Aroostook War," so it was imperative that some resolution was reached between the U.S. and the United Kingdom over this boundary. The Senate was in no mood to compromise with the British, and Parliament was not eager to surrender land to America. Each side had differing maps of a boundary line they claimed dated from the original treaty in 1783.

In addition, there was still considerable ill feeling between the two countries over the 1837 Caroline incident, and the fallout the previous year when the British threatened war over New York State's plans to execute Canadian deputy sheriff Alexander McLeod for the murder of American Amos Durfee on the Caroline.

There was tension for yet another reason: Slavery. The British had outlawed the slave trade 34 years earlier, and 7 years earlier they had abolished slavery throughout their empire. The United States had officially forbidden the transoceanic slave trade 33 years earlier, even (supposedly) providing the death penalty for violators, but American slave merchants boldly flouted the indifferently enforced law. The British Navy felt constrained when confronting American vessels that would run up the U.S. flag: Because of American enduring touchiness from the "impressment" days before the War of 1812, the British were hesitant to insist on searching a suspected American slave ship.

A cargo of slaves revolted on the American brig Creole, which had been transporting them, legally, from Hampton Roads, Virginia, to New Orleans. The slaves brought the ship into Nassau in the British Bahamas and claimed asylum there. British authorities promptly arrested the ringleaders and charged them with mutiny and murder, but, despite protests from Daniel Webster's U.S. State Department, they freed the rest of the 130 slaves.

Slightly alleviating all these tensions, the very anti-American British Foreign Minister Henry John Temple, Viscount Palmerston, 57, was replaced this year by the more conciliatory George Hamilton Hamilton-Gordon, 4th Earl of Aberdeen ("Lord Aberdeen"), 57.
---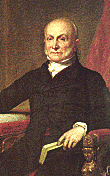 Meanwhile, Connecticut attorney Roger Sherman Baldwin, 49, with the help of Massachusetts Congressman John Quincy Adams, pictured here, argued before the U.S. Supreme Court for the freedom of Cinqué and 53 other slaves who had been captured from West Africa by Spanish slavers in violation of a Spanish-British Treaty outlawing further slave trade. (In 1839 the slaves had mutinied and taken over the ship Amistad, which was transporting them from one Cuban port to another, and had been captured outside Long Island by the U.S. Navy and forced into New London, CT, where they had been incarcerated. The federal district court in New Haven had decided in favor of the captives, but federal prosecutors of the Van Buren Administration had appealed this decision to the Supreme Court, which decided that all of the Africans from the Amistad must be freed and returned to their homes in Africa. Money was raised for the return voyage. Once home, Cinqué set himself up as a slave trader.
Abolitionists sent tens of thousands of anti-slavery petitions to the 27th Congress. The House of Representatives continued to pass "gag resolutions," declaring that all petitions or papers "relating in any way" to slavery or the abolition thereof be "laid on the table" (and forgotten) without liberty of debate, and receive no further action. Congressman J. Q. Adams continued to denounce the gag rule, in spite of exasperated threats of censure, expulsion, and even assassination. He continued to present such petitions (and most of them had been addressed to him), one by one, sometimes as many as 200 in a single day, demanding the attention of the House of Representatives to each separate petition, thereby defending the right of even the poorest and humblest American to petition Congress.
Southern propagandists often quoted the Bible to justify slavery. The following is from the Reverend Thornton Stringfellow of Virginia:
Job himself was a great slaveholder, and, like Abraham, Isaac, and Jacob, won no small portion of his claims to character with God and men from the manner in which he discharged his duty to his slaves.(9)

---

Quoted in Garraty, op. cit., p. 375. (Close)

---
Slaves worked all year round, up to 16 hours a day.(10)
---
The material here about the condition of slaves is from McCutcheon, Marc, Everyday Life in the 1800s: A Guide for Writers, Students & Historians (Cincinnati, OH: Writer's Digest Books, 1993), pp. 214-15. (Close)
---
Frederick Douglass recalled:
We were worked in all weathers. It was never too hot or too cold; it could never rain, blow, hail, or snow too hard for us to work in the field. Work, work, work.
The clothing provided to slave field hands was often inadequate. Some of it was homespun by the slaves themselves, while some items, such as shoes, were purchased ready-made. A typical clothing allotment, according to a plantation manual of the 1840s, was as follows:
Each man gets in the fall 2 shirts of cotton drilling, a pair of woolen pants and a woolen jacket. In the spring 2 shirts of cotton shirting and 2 pr. of cotton pants. . . . Each woman gets in the fall 6 yds. of woolen cloth, 6 yds. of cotton drilling and a needle, skein of thread and 1/2 dozen buttons. In the spring 6 yds. of cotton shirting and 6 yards of cotton cloth similar to that for men's pants, needle, thread and buttons. Each worker gets a stout pr. of shoes every fall, and a heavy blanket every third year.
Children typically received two long shirts of sack cloth or tow-linen and no pants or shoes. The shirts, sometimes called banyans, were worn almost year-round. "[I] was kept almost in a state of nudity," said Frederick Douglass of his slave childhood in Maryland,
no shoes, no stockings, no jacket, no trousers' nothing but coarse sack-cloth or tow-linen, made into a sort of shirt, reaching down to my knees. This I wore night and day, changing it once a week.
Children of both sexes old enough to walk or crawl about wore such one-piece garments with no underclothes. They learned to relieve themselves outdoors in imitation of parents or other adults. The simplicity of bedding--mattresses consisting of ticking stuffed with grass, corn shucks, hay, or pine needles--helped ensure that bedwetting was more of a nuisance than a transgression; such mattresses dried quickly outdoors or in front of the fireplace, and parents could easily replace their filling.

The South was an extremely hostile and deadly territory for anyone criticizing the "peculiar institution" of slavery.(11)
---
The material here about the reaction of the South to abolition is from Garraty, op, cit., pp. 374-75; Morison, op. cit., pp. 518-25. (Close)
---
Anyone not explicitly and fervently proslavery was called an abolitionist and considered a radical firebrand, an inciter of Negro insurrection.
Freedom of expression practically disappeared. Slaves could not legally be taught to read and write except in Maryland, Kentucky, and Tennessee, and even the education of whites was strictly controlled. Schoolbooks were censored, dissident teachers fired.… Southerners who spoke out against slavery were whipped, beaten, driven away.
Southern legislatures passed laws making it increasingly difficult for masters to liberate slaves, or for free Negroes to exist. By frantic attempts to suppress discussion of the subject, and to buttress, protect, and expand slavery, the spokesman of the South ended in convincing the North that every man's liberty was at stake.
All reform became suspect, every protest cause for repression.
Reformers (abolitionists and utopianists) proliferated in the North during this period, but even they had a difficult, often dangerous, time.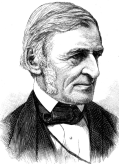 Transcendentalist philosopher Ralph Waldo Emerson, 38, pictured here, stated:
If you put a chain around the neck of a slave, the other end fastens itself around your own.
Emerson published Self-Reliance, which included the lines
Whoso would be a man, must be a nonconformist
and
A foolish consistency is the hobgoblin of little minds
Adored by little statesmen and philosophers and divines
He also published Love, including this line:
All mankind(s) love a lover
In his Letter on the Times, he criticized contemporary reformers, who, he felt, had to make too many compromises to achieve their ends. Of the reforms and the reformers, he stated the following:
[The reforms] are quickly organized in some low, inadequate form, and present no more poetic image to the mind, than the evil tradition which they reprobated. They mix the fire of the moral sentiment with personal and party heats, with measureless exaggerations, and the blindness that prefers some darling measure to justice and truth. Those, who are urging with most ardor what are called the greatest benefits of mankind, are narrow, self-pleasing, conceited men, and affect us as the insane do. They bite us, and we run mad also.
---
Dorr Rebellion
Thomas Wilson Dorr, 36, a Harvard-graduated lawyer, manufacturer, and former Federalist (but now Jacksonian Democrat) in Providence, RI, frustrated with years of rejection by the Rhode Island legislature of his political reform suggestions, founded the People's Party to liberalize the 178-year-old, unamendable state charter. The charter restricted the vote to property owners who owned a freehold worth $150

($2,823 in 2006 dollars)

or to the eldest son of such a property owner--thereby excluding about two-thirds of Rhode Island citizens from the franchise. Dorr was opposed by conservative "Landowners" who argued that Dorr was trying to empower "undesirables," their code word for "foreigners," especially Irish Catholics. Without the permission of the legislature, Dorr called a constitutional convention (the "People's Convention"), which submitted a new, liberal Rhode Island constitution to extend suffrage--that is, to provide manhood suffrage and a more representative district reapportionment. Submitted to a popular vote, the constitution was ratified by a huge majority. The sitting legislature, however, stonewalled.
---
Massachusetts geologist Edward Hitchcock, 48, completed a revised geological survey of his state, far more detailed than the one he had done 8 years before.
Horticulturalist and architect Andrew Jackson Downing, 26, published Treatise on Landscape Gardening, emphasizing the relationship between a dwelling and its surroundings.
Jesuits founded St. John's College (later known as Fordham University) in New York City. Manhattanville College of the Sacred Heart was also founded.
Connecticut showman Phineas Taylor Barnum, 31, continued his career of showing carnival attractions. He purchased Scudder's New York Museum, in New York City, and he exibited freaks and many hoaxes.
Pliny Freeman persuaded 56 prominent New Yorkers to pledge a total of $56,815 ($1,069,250 in 2006 dollars) to start the Nautilus Insurance Company.
Publisher Horace Greeley, 30, began publishing the New York Tribune.
The Brooklyn Eagle began publication.
The Cleveland Advertiser began publication (later called the Cleveland Plain Dealer).
The Cincinnati Enquirer began publication.
Philadelphia entrepreneur Volney B. Palmer began to sell newspaper space to out-of-town advertisers, thereby establishing the first advertising agency.
Philadelphia pharmacist George K. Smith opened his wholesale-retail pharmaceutical firm (later to become Smith, Kline & French Laboratories).
Engineer John Augustus Roebling, 34, founded a factory to manufacture wire rope for the suspension bridges he was designing.
"Rock oil," skimmed from the surface of northwestern Pennsylvania streams, was renamed "Seneca Oil" and sold as a patent medicine. Coke, a coal product, was manufactured at Connellsville, PA.
The steamboat Erie burned on Lake Erie, killing 175 people.
It was considered vulgar to mention "trousers" or "pants." Here are some sample quotes that include substitutes for describing this garment:(12)
---
Quoted in McCutcheon, op. cit., p. 116, citing the Philadelphia Public Ledger (April 5, 1836); Knickerbocker Magazine (March 1837); Philadelphia Spirit of the Times (April 20, 1842). (Close)
---
The managers have resolved to insist upon their wearing stockings and unmentionables.

How could he see about procuring a pair of unwhisperables?

The child was wrapped in white linen, and then crammed into a bag made of the leg of a pair of inexpressibles.
Men frequently spat wherever they pleased on trains, so the railroads strategically placed spittoons throughout their cars.(13)
---
The material here about spitting is from ibid., pp. 76, 174, citing "Travels in the United States in 1846-47" in The Western World. (Close)
---
Both in New England and in New York tobacco-chewing is a habit by far too prevalent, but this plague in American life only begins to show itself in its detestable universality after he has crossed the Hudson on his way South. A New York railway car is a clean affair as compared to one on the line between Philadelphia and Baltimore.… It frequently happens that the seats, the sides of the car, the window hangings, where there are any, and sometimes the windows themselves are stained with the pestiferous decoction.
Of course, the tobacco chewing and spitting occurred everywhere in America, not just on the trains. A foreign observer at a dance in Washington commented that
one night as I was walking upstairs to valse, my partner began clearing his throat. This I thought ominous. However, I said to myself, "surely he will turn his head to the other side." The gentleman, however, had no such thought but deliberately shot across me. I had not courage enough to examine whether the result landed in the flounce of my dress.
---
Second Seminole War
Hostilities continued. U.S. troops were destroying Seminole crops and villages in Florida.
---
Former Unitarian minister George Ripley, 38, and his wife, Sophia Dana Ripley, gathered several New England intellectuals (teachers, farmers, carpenters, printers, and shoemakers) together as stockholders to found Brook Farm in West Roxbury, MA--a commune and school, committed to the philosophy of transcendentalism, to pursue truth, justice, and order: "plain living and high thinking." Each member was to receive a dollar a day for labor; housing, food, clothing, and fuel were provided at cost. Among the initial members were Charles A. Dana, 21, and author Nathaniel Hawthorn, 37.
William Miller, 69, a veteran of the War of 1812, worked out at Hampton, New York, the theory that the second coming of Christ would take place on 22 October 1843. He founded the Millerite or Adventist sect which persuaded thousands to sell their goods and, clothed in suitable robes, await the Second Coming on roofs, hilltops, and haystacks, which they believed would shorten their ascent to Heaven.
Religious camp meetings were rousing affairs, even for the libido. Emotions so stimulated required some sort of release, and hot-blooded young men and warmly receptive girls often found it with each other. There was a frequent rise in the birth rate of illegitimate babies after great camp meetings. One witness of the times wrote:
There may be some who think that a camp meeting is no place for love-making; if so, they are much mistaken. When the mind becomes bewildered and confused, the moral restraints give way, and the passions are quickened and less controllable. For a mile or more around a camp ground the woods seemed to be alive with people; every tree or bush had its group or couple, while hundreds of others in pairs were seen prowling around in search of some cozy spot.(14)

---

This quotation and the supplementary material about camp meetings is from Wellman, op. cit., pp. 25-26, citing J. M. Keating, History of the City of Memphis and Shelby County (1888). (Close)

---
Inevitably, criminal rascality was present. For example, the notorious outlaw John A. Murrell frequently attired himself in "clothes of a Methodist cut" and attended camp meetings, setting himself forth as an evangelistic preacher for the purpose of robbery on the side. "I preached some damn fine sermons," he boasted to one man. He also "scattered a lot of queer [counterfeit] money among the pious," committed several robberies, and with the help of confederates stole some fine horses.

Ohio Wesleyan college was founded by Methodists.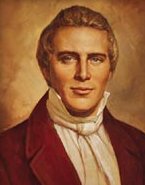 Joseph Smith, 36, pictured here, was the "Prophet" of the 11-year-old "Church of Christ" (later called the Church of Jesus Christ of Latter-day Saints), with the followers called "Saints" (or Mormons), whose doctrine was based on the alleged revelations Smith said he had been receiving for several years from the angel Maroni, now all gathered, translated, and published in the 522-page Book of Mormon. The book claimed that the New World aborigines (the Indians) were descended from the lost 10 tribes of Israel, who had sailed from the Near East 2,500 years earlier, and who had received a visit from Jesus Christ after his resurrection in Palestine. Smith and his followers were commanded to redeem these lost Israelites from the paganism they had fallen into. The book also sanctioned polygamous marriage.
Responding to persistent hatred from "gentiles" (non-Mormons), typically reacting to the polygamy doctrine but sometimes to bank fraud and general nuisance, the ever-growing Mormon congregation had been migrating from bases in New York, Pennsylvania, Ohio, Missouri, and finally, 2 years earlier, to their own theocratic settlement in Hancock County, Illinois, which they called "Nauvoo," with its own state charter authorizing independent municipal courts, the foundation of a university, and even its own army, the "Nauvoo Legion." The settlement continued to attract new followers, many of them from Liverpool, England, where Smith's lieutenant Brigham Young, 40, had promised poor workers and tenant farmers the prospect of decent living and later on heavenly "thrones, kingdoms, principalities, and powers." Unfortunately, robbers and outlaws gathered within the settlement, called themselves "Mormons," and used the town as a base for committing crimes in the region. They then would take refuge in Nauvoo, secure from arrest from the county sheriff. The true Mormons were fanatics labeling all other forms of religion the "works of the devil," and they defended anyone who called himself a Mormon.
John Chapman, 66, known as "Johnny Appleseed," continued distributing Swedenborgian religious tracts and apple seeds to settlers in the Indiana wilderness. A small, wiry man with "eyes that sparkled with a peculiar brightness," he had a reputation for loving children and all living creatures, even mosquitoes. He made friends with all the Indians he encountered. He traveled barefoot, dressed in cast-offs or a coffee sack. He liked to read to settlers from the New Testament, calling it "news right fresh from heaven."
A squatter settlement near Fort Snelling in Minnesota was named St. Paul by missionary Lucian Galtier.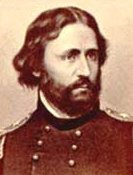 U.S. Army Lieutenant John Charles Frémont, 28, pictured here, eloped with the 16-year-old daughter of Missouri Senator Thomas Hart Benton, 59. The Senator sent his new son-in-law with competent guides to take care of him.
The entire Cherokee Nation in Indian Territory (Oklahoma) was split into two mutually hostile factions, the "Old Settlers," who had moved west years earlier in response to pressure from white settlers, and the Eastern Cherokees, who had arrived from (and had survived) the 1838 forced removal they called Nuna-da-ut-sun'y ("The Trail Where They Cried"), better known as the "Trail of Tears." Several missionaries and teachers who had been with the Indians a long time in the East had come with the Eastern Cherokees on the cruel journey. Now new teachers were arriving from the North. Some of these missionaries were violently opposed to slavery, but the Indian agents and other government officials, many of whom were from the South, believed in slavery very strongly, and, in fact, several Cherokees owned slaves.
Painter George Catlin, 45, famous for his Indian portraits, published Letters and Notes on the Manners, Customs, and Condition of the North American Indians.
Trapper and Indian trader Thomas "Broken Hand" Fitzpatrick, 42, led an emigrant train bound for the Pacific through northwestern Montana.
Passionate interest in Oregon grew among American farmers, who heard tales of wheat that grew taller than a man and turnips that were 5 feet around.
Mountain man Robert "Doc" Newell, 34, led a caravan of wagons to Oregon Country. The vehicles had to be floated down the Columbia River--and carried over the hard portages in the dangerous parts of the river.
The 5-year-old Christian mission of Dr. Marcus Whitman, 39, and his wife, Narcissa Prentiss Whitman, 25, continued to flourish among the Cayuse Indians at Waiilatpu in the Walla Walla Valley of eastern Oregon Country. The missionaries had established schools and grist mills and had introduced crop irrigation. Unfortunately, however, the Cayuse were nervous about agriculture, since they believed that to plow the ground was to desecrate the spirit of the Earth. Missions were now being established not only among the Cayuse but also among the Flatheads (near the site of present-day Spokane, WA) and the Nez Percé, who were using a New Testament printed in the Nez Percé language.
Boxer Tom Hyer became the first recognized champion.
Lard oil began to replace the more expensive whale oil in lamps.
More and more men were growing mustaches.
The household was changing, and families were getting smaller. More and more frequently during these years, love, not parental "arrangement," determined the choice of a spouse(15)--yet
---
Quoted in Bailey, Thomas A., Kennedy, David M., and Cohen, Lizabeth, The American Pageant: A History of the Republic, Boston: Houghton Mifflin, 1998, p. 316. (Close)
---
parents often retained the power of veto. Families thus became more closely knit and affectionate, providing the emotional refuge that made the threatening impersonality of big-city industrialism tolerable to many people.
---
Science and technology in America: Specifics
John Goffe Rand invented the collapsible metal tube to hold paints (and ultimately hundreds of other products including toothpaste, shaving cream, ointments, and glues); and New York lawyer and Tammany Hall orator John Lloyd Stephens and English artist Frederick Catherwood published The Incidents of Travel in Central America, Chiapas, and Yucatán about a diplomatic trip Stephens took to the Federal Republic of Central America, documenting the ruins of Palenque, Chichen Itzá, Copan, Uxmal, and other Mayan cities, thereby founding the science of archeology in America.
---
Arts and culture in America: Specifics
Novelist James Fenimore Cooper, 52, frequently sued unsuccessfully for libel, published The Deerslayer (fifth in the "Leatherstocking" series); Massachusetts novelist and poet Henry Wadsworth Longfellow, 34, published Ballads and Other Poems, which included "The Wreck of the Hesperus," "Excelsior," and "The Village Blacksmith"; and poet James Russell Lowell, 22, inspired by his poet wife Maria White, published A Year's Life.

Lydia Howard Sigourney, 50, published her banal, sticky-sweet, and very popular Pocahontas and Other Poems.

Virginia poet and novelist Edgar Allan Poe, 32, a vitriolic critic of Mrs. Sigourney and her sentimental school, serialized his short story "The Murders in the Rue Morgue," considered the world's first detective story (Poe called it a "tale of ratiocination"), in Graham's Magazine, which he edited; later he serialized A Descent into the Maelstrom."

Other popular periodicals included the Niles' Weekly Register, the American Journal of Science, American Farmer, Christian Watchman, Saturday Evening Post, New York Mirror, National Preacher, Godey's Lady's Book, Ladies' Companion, Yale Literary Magazine, Knickerbocker Magazine, Liberator (abolitionist), Emancipator (abolitionist), and Spirit of the Times. Aristotle's Masterpiece, an anonymous sex education book, illustrated with explicit woodcuts and describing sexual mechanics, was popular among young men, who read it behind the barn.

Popular songs included "Old Rosin the Beau," "Flow Gently, Sweet Afton," "Home Sweet Home," "America," "Turkey in the Straw," "Amazing Grace," and "Woodman, Spare That Tree."
The World at Large in 1841
There were 625,000 people in Lower Canada (Quebec) and 455,700 in Upper Canada (Ontario).
The U.K., intensely interested in an independent Texas, employed many diplomatic schemes to prop up that independence: Such a republic would check the southward surge of the American colossus into the Caribbean and South America, where there were British colonies and British economic spheres of interest. An independent Texas could clash with the U.S., creating a diversion while the U.K. and France could exploit the New World without worrying about the Monroe Doctrine. Abolitionists in Britain wanted a slave-free independent Texas to inflame the slaves of the American South. British merchants regarded cotton-producing Texas as a potentially important free-trade (tariff-free) area, relieving British textile manufacturers of their dependence on American cotton. Britain supplied arms to the Texans to build up its defenses against a Mexico that regarded it as a province in revolt and refused to recognize its independence. Britain also schemed to thwart any U.S. designs to annex Texas.
Tennessee trader John Neely Bryan, 31, built a house on the Trinity River in Texas, beginning the settlement of Dallas, named for his friend George Mifflin Dallas, 49.
German-born Swiss pioneer "General" John Augustus Sutter, 38, purchased the 30-year-old Fort Ross in California from Russian colonists. He called the fort "New Helvetia" (popularly known as "Sutter's Fort"), and it became the headquarters for friendly Indians, white trappers, and early travelers.
The first overland emigrant train, under John Bidwell, 22, called the Bartleson-Bidwell Company, crossed the Great Plains and reached California.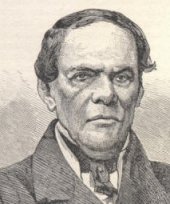 In Mexico, Antonio López de Santa Anna, 47, the loser at San Jacinto in Texas in 1836, the "Hero of Veracruz" in 1838, rode into Mexico City in a luxurious carriage drawn by four white horses and assumed power as dictator, succeeding President Anastasio Bustamente, 61. He ordered that the leg he had lost to amputation in the 1838 Pastry War be exhumed and buried with full honors in Mexico City, where he wept over its grave. This time Santa Ana ruled in person, with his greed equaled only by his extravagance. To raise money, he exponentially raised taxes and sold phony mining shares to foreign investors. But the increased revenues were frittered away by such extravagances as outfitting a uniformed private army and giving an endless round of fiestas, most of them in his own honor.
Peruvian President Agustín Gamarra, 56, led his forces into Bolivian territory but was defeated and killed in the Battle of Ingavi. Peru descended into civil war.
Pedro II of Brazil, 15, was crowned Emperor.
There were 18.5 million people in Great Britain--15 million of them in England and Wales. London's population was 2.24 million.
Prime Minister Viscount Melbourne of the United Kingdom resigned after only 6 months in office. Tories assumed power in a new government headed by Sir Robert Peel. The new ministry introduced the first peacetime British income tax: Annual incomes above £150 were taxed at 7 pence per pound sterling. It also reduced import duties on foodstuffs and raw materials; grain imports were encouraged, and food prices dropped.
The illustrated humorous periodical Punch, immediately famous for its satiric humor and cartoons, began publication in London.
The American George P. Putnam, 27, who had been campaigning for international copyright agreements for the preceding 4 years, moved to London and opened a bookstore specializing in American books.
An urban redevelopment program in London cleared out several squalid courts and cheap cookshops in the "Porridge Island" district and renamed the area Trafalgar Square.
English printer-temperance worker Thomas Cook, 33, began his tour guide business by persuading the Midlands County Railway to reduce its fares on its new route from Leicestershire to Loughboro if he guaranteed 500 passengers (10 times its normal load); he then organized a group of 570 teetotalers and charged them only 14 cents each for the 48-mile round trip to the temperance conclave in Loughboro.
Lancashire cartographer and publisher George Bradshaw, 40, published his 8-page Bradshaw's Monthly Railway Guide.
The Oxford Movement at Oxford University was attacking the "national apostasy" of the Church of England. The Church, according to the movement's "tractarians," needed a basis in firm doctrine and discipline, rather than be an arm of the state. Was the Church of England a department of the state, to be governed by the forces of secular politics, or was it an ordinance of God? Were its pastors priests of the Catholic Church (as the Prayer Book insisted) or ministers of a Calvinistic sect? Did baptism bestow an indelible character on the soul? What does "consecration" of the eucharistic elements signify? Was the Reformation and Elizabethan Settlement a release from papal bondage, a disaster imposed by a heretical state, or a sophisticated via media between these two extremes? How were the "golden ages" of the early Church Fathers and Seventeenth Century Anglican theology to be recovered? Edward Bouverie Pusey, 41, focused his attention on the ritual observances of the Church. John Henry Newman, 40, at Oxford's Oriel College, had been responsible for much of the disputation with his "Tracts for the Times," but now he abandoned the Church of England and converted to Roman Catholicism.
There were 10 million people in Ireland, a 33 percent increase from 10 years earlier. Irish tenant farmers, on the 663,153 landholdings of less than 15 acres, were attempting to raise cattle and grain in order to raise rent money; for their own food they were dependent on potatoes. Bread was more expensive than whiskey, resulting in widespread drunkenness. Note Irish immigration into the United States and the conditions experienced by the immigrants.
France passed a worker protection law.
The population of Paris was 935,000.
Arc lamps were demonstrated for street lighting in Paris.
The population of Berlin was 300,000, of Vienna 357,000.
Lajos Kossuth, 39, became the nationalist leader of Hungary.
The Spanish Cortes (Parliament) made General Baldomero Espartero regent with dictatorial powers.
---
Ottoman dissolution
In the Straits Convention, the United Kingdom, France, Austria, Russia, and Prussia agreed to guarantee Ottoman sovereignty and to close the Straits (Bosporus and Dardanelles) to all warships (excepting Ottoman warships) during peacetime. (France was now once again recognized as one of the great powers.) Muhammad Ali, 72, Viceroy of Egypt, agreed to pay a tribute to the Ottoman sultan, cede Syria and Crete, and reduce his army to 18,000 men; in exchange, he was granted hereditary power in Egypt.
---
British expansion into central Asia
Sir William Macnaghten and Sir Alexander Burnes, British envoys to Afghanistan, were murdered.
---
British expansion in southeastern Asia
British soldier Sir James Brooke, 38, who had 3 years earlier helped Muda Hassim, uncle of the Sultan of Borneo, suppress a rebellion in Sarawak province by several Dyak headhunter tribes, was confirmed as Rajah of that province. He "reformed" the Sarawak government.
---
British expansion into Africa
The first British consul general to Zanzibar was appointed.
---
First Opium War
British forces seized Hong Kong in January, proclaiming sovereignty over it, and later Chinkiang on the Grand Canal and several coastal ports.
---
An earthquake in Shinano, Japan, killed some 12,000 people.
---
British expansion into the Antipodes
New Zealand officially became a British colony.
---
The United States South Seas Exploring Expedition (U.S. Ex. Ex.)
American scientist and surveyor Lieutenant Charles Wilkes, 43, who had promoted himself to Captain, commanding a six-vessel U.S. Navy expedition to circumnavigate the world (intending to provide accurate charts for the American whaling industry) concluded his voyage that had demonstrated Antarctica to be an actual continent. On returning home, he was received coldly by the Tyler Administration. Secretary of State Daniel Webster did not want to rock the boat in his delicate Maine-border negotiations with Wilkes's mapping data about the Pacific Northwest. Webster squelched the Ex. Ex. findings and had Wilkes and several officers brought up on petty charges.
---
Scots navigator James Clark Ross, 41, led an expedition to Antarctica, claiming everything he discovered for the United Kingdom.
---
World science and technology
German chemist C. J. Fritzsche demonstrated how to produce aniline oil by treating indigo with potassium hydroxide; Prussian gunsmith Johann Nikolas Dreyse, 54, designed the Prussian "needle gun," the first successful breech-loading bolt-action military rifle (with a needlelike firing pin; English mechanical engineer Sir Joseph Whitworth, 38, devised the standard screw thread; Viennese mathematician Joseph Petzval, 34, produced an f/3.6 lens for portrait cameras; and German astronomer Friedrich Wilhelm Bessel, 57, deduced a value of 1/299 for the ellipticity of the Earth.

German embryologist Rudolf Albert von Kölliker, 24, described the spermatozoa and contributed important evidence supporting the neuron doctrine; and Scots surgeon James Braid, 46, investigated the therapeutic value of hypnosis. Swiss botanist Austin de Candolle died at the age of 63, and English surgeon Sir Astley Cooper, discoverer of a method for treating aneurism, died at the age of 73.
---
World philosophy and religion
German economist Friedrich List, 52, published The National System of Political Economy, his principal work; and German philosopher Ludwig Andreas von Feuerbach, 37, published Das Wesen des Christentums ("The Essence of Christianity"). German philosopher and educator Johann Friedrich Herbart died at the age of 65.
---
Arts and culture in the British Isles
British poet Robert Browning, 29, published the dramatic idyll "Pippa Passes," including the following lines:
The year's at the spring,
And day's at the morn;
Morning's at seven;
The hillside's dew-pearled;
The lark's on the wing;
The snail's on the thorn;
God's in His heaven--
All's right with the world!
Scots historian Thomas Carlyle, 46, published Heroes and Hero-Worship, including the line
No great man lives in vain. The history of the world is but the biography of great men.
Irish dramatist Dion Boucicault (né Dionysius Lardner Boursquot), 20, working under the pseudonym Lee Morton, produced London Assurance at Covent Garden Theater in London; Scots journalist Charles MacKay, 27, published Extraordinary Popular Delusions and the Madness of Crowds; novelist Frederick Marryat, 49, published the adventure novel Masterman Ready; and novelist Charles (John Huffman) Dickens, 29, published The Old Curiosity Shop (including the melodramatic death of Little Nell) and Barnaby Rudge, A Tale of the Riots of 'Eighty. English prolific musician and dramatist T. J. Dibdin died at the age of 70, Scots genre painter Sir David Wilkie died at the age of 56, English sculptor Sir Francis Chantrey died at the age of 60, humorist and novelist Theodore Hock died at the age of 53, and poet and theologian Joseph Blanco White died at the age of 66.
---
World arts and culture
French artist Eugène Delacroix unveiled Jewish Wedding in Morocco; and French painter Théodore Chassériau exhibited Père Lacordaire. German architect Karl Friedrich Schinkel died at the age of 60.

Russian poet and novelist Mikhail Yurievich Lermontov, 26, published The Demon before being killed in a duel with a fellow soldier at Pyatigorsk; Austrian author K. A. Postl (Charles Sealsfield), 48, published the adventure novel Das Kajütenbuch ("The Cabin Book" with a Texas background; and Swiss author Jeremias Gotthelf, 44, published Uli der Kncecht ("Uli the Farmhand"). French poet Victor Marie Hugo, 39, was elected to the Académie Française.

Belgian instrument maker Antoine Joseph Sax, 27, invented the saxophone (but would not patent it for another 5 years); Italian composer Gioacchino Antonio Rossini, 49, produced Stabat Mater at the Salle Herz in Paris; German poet-philologist August Heinrich Hoffman, 43, composed the anthem "Deutschland, Deutschland über alles"; German composer Robert Schumann, 31, produced Symphony No, 1 in B Flat Minor ("Spring") and Symphony No. 4 in D Minor (the "Spring Symphony"); and Italian prima ballerina Carlotta Grisi danced at the Théâtre de l'Académie Royale de Musique (in Paris) the title role in the ballet Giselle ou les Wilis by French composer Adolphe Charles Adam, 38, and French librettist Pierre Jules Théophile Gautier, 30 (choreographed by Jules Perrot and Gean Corelli).
Notes
The copyrighted material cited on this page comes under the definition of "Fair Use."
See also the general sources.
---