Christ's Lutheran Church in 1865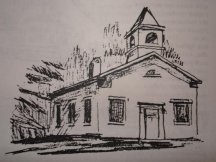 Pastor William H. Emerick, 59, a gifted and fiery preacher, conducting services in the third church building, which, like the second one, was known as the "Church on the Rocks," because it sat on a rocky ledge overlooking the Sawkill (about ¾ mile east of our present location--that is, north of present-day Route 212, across from the country club).
We have no description of what it was like in the first or second church building, but here is a reminiscence(1)
---
Quoted from Moseman, Magda, and Anderson, Mark, eds., Perspectives and Patterns: Christ's Lutheran Church, 1806-1976 [Woodstock, NY: self-published monograph, 1976], itself citing Nathaniel M. Nash. (Close)
---
about what the third was like in the 1850s (and probably in the 1860s as well):
My memory dates back fifty years, and that old church standing upon the rocks is the same in outward appearance now as it was then. The door in the center of the south end opened directly into the church, there being no vestibule or hall. The stove stood between the door and the first row of seats.… The stove was a solid cast iron stove … it took long wood and when it got hot it was awful hot. The pipe suspended by wire ran the whole length of the church to the chimney at the north end.… The seats were planed pine boards with backs and ends, and I think the hard side of the boards was up. I could not sit still on them. …

The church was lighted with candles, a candlestick on each end post of the pulpit and tin candle holders hanging upon the wall--just enough of them to make darkness visible. Every little while the sexton would go around with the snuffers and snuff the candles and sometimes he would snuff too low when out would go the light.

It would be a sight worth seeing today to see the vehicle on a Sunday morning that stood about the church grounds with the teams tied to the pine trees.… [F]arm wagons with long boxes on them and boards laid across for seats, and bed quilts for lap coverings in cold weather, the same kind of wagon with wooden springs with seats attached which they put inside the box (which simply emphasized the jolts); the Gondola pleasure wagon which turned up slightly at both ends with no door but with springs under it; and others of various styles. And in the winter the long sleigh, the farm bobs and … you could see any Sunday that there was sleighing … in some neighborhoods one farmer would take his team and long box wagon and gather up all that wanted to go to church and the next Sunday another would take his team and bring them. In this way those not having teams could get to church. How they all enjoyed the ride! Neither do I think they were proud, for many if not all wore the garments spun, woven, dyed and fashioned by their own mother's hands.

I well remember a revival held in the spring of the year when the frost was going out of the ground and such roads. Mud hub deep [hub deep on a wagon wheel, probably 3 or 4 feet in diameter!]. But not withstanding the state of the roads or the weather, the church was packed to the door and some nights they could not all get in. They came long distances to attend the meetings. At these meetings many of the young people of the church were converted and later joined the church.…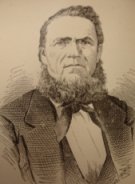 Pastor Emerick often held meetings on the same grounds where the annual Sunday School picnics were held--that is, on the banks of the Sawkill in a shaded wood. He was always interested in bringing people into the church. The church owned no parsonage. The pastor (pictured)
lived in rented rooms wherever they could be procured, sometimes several miles away.… [Pastor Emerick] lived part of the time in West Camp on [his own place], coming up on Saturday and going back on Sunday afternoon or Monday.…
Former Pastor Augustus Wackerhagen (who had served the Woodstock congregation from 1817 until 1822) died in Clermont (where he resided and was in charge of the academy) at the age of 91.
The Woodstock Region in 1865
According to regional historian Alf Evers(2),
---
Excerpted from Evers, Alf, Woodstock: History of an American Town, Woodstock, NY: Overlook Press, 1987, pp. 263-64, citing Plank, Will, Banners and Bugles, Marlborough, NY, 1963, pp. 94-99. (Close)
---
Like the people of other Ulster County towns, Woodstock people had felt little enthusiasm for the Civil War. The seceding states were far away and had few perceptible economic or social ties with Ulster. Ulster had been a slave-holding county until 1827, and sympathy for emancipation was not great.… [Nonetheless, many had] enlisted in Company H of the 20th Regiment known as the Ulster Guards.… Black Solomon Peters [had] enlisted and became the cook in a white artillery company. A white Woodstock man [had become] sutler (he ran the shop at which soldiers bought necessities and luxuries) in a black regiment. Soldiers were paid very little and were often unable to buy their basic necessities. Some had families back home who had to rely on charity or even go to the poorhouse.
Women organized an Auxiliary and a Ladies Relief Society to send food, warm sweaters and mittens they had knitted (children joined in the knitting), and other necessities to men at the front. These necessities might include "medicinal" syrups, made from berries gathered by local children, thought useful in treating the digestive ailments afflicting the camps. Betsy Booth MacDaniel, the local herb doctor, nurse, and midwife, who had learned her craft from an "Indian doctor" on Tinker Street and was said to have been able to cure consumption by herbal means, made cholera syrup and other remedies, shipping them to her sons at the front.
Woodstock families who had seen their sons go off as soldiers were naturally anxious, never knowing when they might receive devastating news. Of course, the men were just as likely to succumb to fevers in camp as they were to enemy bullets. Local boy Egbert Lewis did not return. Aaron Newkirk Risely, who had been captured near James City in Virginia and had spent months in the horrible Libby and Belle Isle prisons, as well as several other prisons including the notorious Andersonville, weighed only 90 pounds when he was released. John Whitbeck Davis was also a lucky survivor of Andersonville.
Veterans coming home in the Grand Army of the Republic (a forerunner of the American Legion) worked hard to elect Republicans to local offices.
As a result of the war and the consequent manpower shortage in the county, labor-saving and other innovative devices had been showing up at home and on the farm: dog- or sheep-operated churns, apple peelers, horse-drawn harvesting and threshing machines, food preserved in tin cans.
Smelly tanneries in the Catskill region continued converting animal hides into leather, using chips and powder from hemlock bark in the tanning (softening) process and thereby leaving millions of bark-skinned hemlocks to die while standing. During the Civil War, there was a huge demand for leather, and the tanning business was booming (and none of the large stands of hemlock was safe). One observer commented that the war was fought on boots made of leather tanned in Sullivan County, where hemlock was once plentiful. James A. Simpson and a partner from Woodstock ran the Phoenix Tannery in Phoenicia (the village named for their business), and took advantage of the boom. The huge hemlock groves in Shandaken (the very name Shandaken means "hemlock" in Algonkian) were being depleted.
The Ulster and Delaware Turnpike (present-day Route 28), leading up the Esopus Valley from Kingston and over the Pine Hill into Delaware County, floored smooth with heavy hemlock planks, was holding up well under the considerable freight of hides, leathers, and other goods.
Painter George Innes, 40, broke from the Hudson River School of painting with his Delaware Valley and Peace and Plenty.
Vassar Women's College, chartered and generously endowed 4 years earlier by Poughkeepsie brewer and fat-cat land speculator Matthew Vassar, opened. The college appointed Massachusetts astronomer Maria Mitchell as the first woman professor of astronomy.
The piratical-minded, foghorn-voiced shipping magnate Cornelius "Commodore" Vanderbilt, 71, now controlling both the New York and Harlem Railroad and the New York and Hudson River Railroad, ordered his employees not to connect with the New York Central Railroad.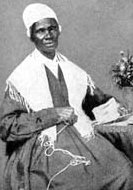 Former New Paltz and Hurley slave Isabella Bomefree Van Wagenen, now an abolitionist itinerant preacher residing in Washington, DC, and known as Sojourner Truth, 68, pictured here, addressed white audiences in Northern states in an effort to provide jobs for black refugees from the war.
The United States in 1865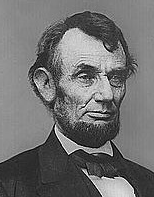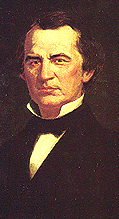 Abraham Lincoln, 56 (Republican), was President, succeeded during this year by his Vice President, Andrew Johnson, 57 (also Republican). The newly elected 39th Congress was in session. A Union dollar in that year, having suffered an 80% inflation during the war, would still be worth $12.03 in 2006 for most consumable products. (A Confederate dollar at the end of the war would be worth, maybe, 11 cents in 2006 dollars.)
Some 248,000 immigrants streamed into the United States--about 82,000 from Great Britain, 30,000 from Ireland, and 83,000 from Germany.
Serious epidemics of yellow fever, smallpox, typhus, and cholera killed thousands in Boston, New York City, Philadelphia, Baltimore, Washington, Memphis, and New Orleans.
Cans made of thinner steel were coming into general use; the rim now enabled the invention of the can opener, which made opening easier than with the hammer and chisel.
Telegraph wires were beginning to interrupt the view of the sky.
Railroads were no longer a novelty; there were some 35,000 miles of them, almost all of it east of the Mississippi. It cost from 96 cents to $2.15 per hundred pounds ($11.55 to $25.86 per hundred pounds in 2006 dollars), depending on the class of freight, to ship goods from New York City to Chicago by rail.
More and more roads had a hard, reasonably flat surface, some of them with asphalt.
Free delivery of mail was provided for all cities with populations of over 50,000.
The 39th Congress again increased the federal income tax that had been enacted in 1861 to meet the expenses of the war. By this year the tax supplied about one fifth of the federal revenues.
Enjoying the tariff protections that Congress passed and the government contracts to supply war needs, industrialists, henceforth identified with the Republican Party, continued to build new factories. The wartime inflation hurt the day laborer and office worker (prices had risen nearly three times as fast as wages, severely diminishing worker purchasing power), but the businessmen, especially those involved in war contracts, joined a new class of gaudy, brassy, noisy, extravagant millionaires. According to Ohio Senator John Sherman(3):
---
Quoted in Garraty, John A., The American Nation: A History of the United States, New York: Harper and Row, 1966, p. 545. (Close)
---
The truth is, the close of the war with our resources unimpaired gives an elevation, a scope to the ideas of leading capitalists.… They talk of millions as confidently as formerly of thousands.
Manufacturers had been supplying the troops not only with necessities but also with cardboard-sole shoes, disintegrating uniforms of reprocessed, or "shoddy," wool, and other worthless items.
Here are the foundations of personal fortunes that were laid during the war: Armour (meat packing), Havemeyer (sugar), Weyerhaeuser (lumber), Huntington (merchandise and railroads), Remington (firearms), Rockefeller (oil), Carnegie (iron and steel), Borden (milk), Marshall Field (merchandise), and Stillman (contraband cotton).
---
Civil War
At the beginning of the year, there were 959,460 men in the Union forces (an 11% increase over the total a year earlier); there were 445,203 men in the Confederate forces (an 8% decrease from the total a year earlier). There were tens of thousands of desertions from both sides.

Privates in either army were paid a monthly salary of $27 ($325 in 2006 dollars). The nominal salary had gone up 50% since the beginning of the war, but because of inflation, its actual value was 14% less.

Inflation had reduced the value of the Confederate paper money to $1.70 per $100 by January, a measure of the 9,000% inflation the South had suffered and making the money worthless.

As for Union money, the gold value of the 3-year-old Congress-authorized legal-tender bank note, called the "greenback," had depreciated under a cloud of dubious legality and popular distrust; it was now valued at only 46 cents on the dollar. There were now more than $400 million worth ($4.8 billion worth in 2006 dollars) of this "folding money" in circulation, and they would not regain their full value for another 13 years.

After General Benjamin Franklin Butler, 47, had messed up an attempt to capture the 75-gun Fort Fisher, which guarded the Cape Fear River near Wilmington, NC (where many blockade breakers were launched), Admiral David Dixon Porter, 52, directed his 44 ships to the heaviest naval bombardment of the war and ferried a landing force under General Alfred Howe Terry, 37, to attack the fort from the rear while the sailors and marines under Lieutenant William Barker Cushing, 23, assaulted from the water. The fort with its 2,100 defenders was captured the next day. There was no more blockade running.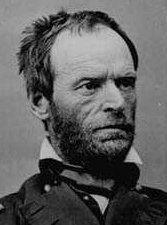 The army of General William Tecumseh Sherman, 45, pictured right, marched northward and ravaged the countryside of South Carolina, which his 60,000 Union soldiers considered the "hell-hole of secession" that had wantonly provoked the war. In February, Confederate forces evacuated Columbia, SC, which Union forces promptly occupied and burned. One visitor to Columbia described the destruction:
A wilderness of crumbling walls, naked chimneys, and trees killed by flames.
A Union fleet promptly captured Charleston, SC. Then Sherman's forces assaulted North Carolina, pressing ahead relentlessly. Here is a letter picked up on a dead Confederate in North Carolina:
Deer sister Lizzy i hev conkludid that the dam fulishness uv tryin to lick shurmin Had better be stoped. We have bin gettin nuthing but hell & lots us it ever sinse we saw the dam yankys & i am tirde uv it. shurmin has lots of pimps that dont care a dam what they doo. and its no use tryin to whip em. if we dont git hell when shurmin starts again i miss my gess, if i cood git home ide tri dam ard to git thare. my old horse is plaid out or ide trie to go now. maibee ile start to nite fur ime dam tired uv this war fur nuthin, if the dam yankes Havent got thair yit its a dam wunder. Thair thicker an lise on a hen and a dam site ornraier. you brother jim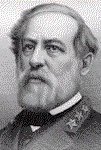 General Robert Edward Lee, 58, pictured left, was appointed by Confederate President Jefferson Davis, 57, made General-in-Chief of all Confederate armies.

In February the Confederate government tried to negotiate for peace between the "two countries." To discuss peace terms, President Lincoln met with Confederate commissioners--including Confederate Vice President Alexander Hamilton Stephens, 53--aboard a Union ship moored at Hampton Roads, VA. Although Stephens had credentials to negotiate as the envoy of an independent republic, Lincoln refused to negotiate on that basis. Confederate Virginia Senator Robert Mercer Taliaferro Hunter, 64, alleged as precedent the negotiations during the English Civil War, but Lincoln replied:
I do not profess to be posted in history. On all such matters I will turn you over to [Secretary of State] Seward. All I distinctly recollect about the case of Charles I is that he lost his head.(4)

---

This and the next quotation are cited in Morison, Samuel Eliot, The Oxford History of the American People, New York: Oxford University Press, 1965, pp. 698-99. (Close)

---
Lincoln would accept nothing short of emancipation and Union:
The war will cease on the part of the Government, whenever it shall have ceased on the part of those who began it.
The Confederates could accept nothing short of independence. The talks broke down.

In his second Inaugural Address on March 4, President Lincoln uttered the following words:
With malice toward none, with charity for all, with firmness in the right as God gives us to see the right, let us strive on to finish the work we are in, to bind up the nation's wounds, to care for him who shall have borne the battle and for his widow and orphan, to do all which may achieve and cherish a just and lasting peace among ourselves and with all nations.
Andrew "Old Andy" Johnson, recovering from typhoid fever, showed up disgracefully drunk at the Inaugural to be sworn in as Vice President.

General Sherman defeated the forces of General Joseph E. Johnston at Bentonville, NC; his Union troops marched into Goldsboro and made rendezvous with those of General George Thomas, forming a mighty force of 90,000 men against only 25,000 with Johnston.

In the final month of the war, the Confederacy at last enlisted black slaves into its armed forces.

Deprived of food and supplies and caught between the Union forces of Generals Sherman and Thomas to their south and the 115,000 of General Ulysses Simpson Grant, 42, to their north, the 54,000 Confederate troops under General Lee tried to pull back to the Richmond and Danville Railroad, but the wings of Grant's army swiftly enveloped that effort. Lee was forced to abandon both Petersburg and Richmond and retreat westward, hoping to unite with Johnston. President Davis and the Confederate government fled the proud Confederate capital, which was burned.

Mrs. Burton Harrison, a resident of Richmond, described what happened when the Union Army entered the city in a letter to her relatives(5):
---
Quoted in Taylor, Dr. Quintard, Jr., "History 101: Survey of the History of the United States--Manual, Chapter 4, Civil War and Reconstruction" (Seattle: University of Washington), citing Kutler, Stanley I., Looking for America: The People's History, Vol. I (New York: W. W. Norton, 1979), pp. 438-41, taken from http://faculty.washington.edu/qtaylor/Courses/101_USH/101_manual_4.htm, accessed 31 January 2007. (Close)
---
Grace Street, Richmond, April 4, 1865

My Precious Mother and Brother:

I write you this jointly, because I can have no idea where Clarence is. Can't you imagine with what a heavy heart I begin it? The last two days have added long years to my life I have cried until no more tears will come, and my heart throbs to bursting night and day.… All through the evening the air was full of farewells as if to the dead. Hardly anybody went to bed. We walked through the streets like lost spirits till nearly daybreak.… With the din of the enemy's wagon trains, bands, trampling horses… and cannon ever in my ears, I can hardly write coherently.

… Looking down from the upper end of [Capitol Square] we saw a huge wall of fire blocking out the horizon. In a few hours no trace was left of Main, Cary, and Canal Streets… except tottering walls and smoldering ruins. The War Department was sending up jets of flame. Along the middle of the streets smoldered a long pile… of papers torn from the different departments' archives of our beloved Government, from which soldiers in blue were picking out letters and documents that caught their fancy.… General Lee's house had a [Union] guard camped in the front yard.

We went on to the head-quarters of the Yankee General in charge of Richmond, that day of doom, and I must say were treated with perfect courtesy and consideration. We saw many people we knew on the same errand as ourselves. We heard stately Mrs. ---- and the ----'s were there to ask for food, as their families were starving. Thank God, we have not fallen to that! Certainly, her face looked like a tragic mask carved out of stone.

A courteous young lieutenant was sent to pilot us out of the confusion.… Already the town wore the aspect of one in the Middle Ages smitten by pestilence. The streets filled with smoke and flying fire were empty of the respectable class of inhabitants, the doors and shutters of every house tight closed.…

The ending of the first day of occupation was truly horrible. Some negroes of the lowest grade, their heads turned by the prospect of wealth and equality, together with a mob of miserable poor whites, drank themselves mad with liquor scooped from the gutters. Reinforced, it was said, by convicts escaped from the penitentiary, they tore through the streets, carrying loot from the burnt district. For some days after, the kitchen and cabins of the better class of darkies displayed handsome oil paintings and mirrors, rare books and barrels of sugar and whiskey.… Thanks to our trim Yankee guard in the basement, we felt safe enough, but the experience was not pleasant.

Through all of this strain of anguish ran like a gleam of gold the mad vain hope that Lee would yet make a stand somewhere--that Lee's dear soldiers would give us back our liberty.
Then there is the perspective of a black Union soldier. J. J. Hill was an orderly for Col. W. B. Wooster, commander of the 29th Connecticut Colored Infantry Regiment; here he describes the capture of Richmond(6):
---
Quoted in ibid., citing Hill, J. J., A Sketch of the 29th Regiment of Connecticut Colored Troops (Baltimore, 1867), pp. 25-27, taken from http://faculty.washington.edu/qtaylor/Courses/101_USH/101_manual_4.htm, accessed 31 January 2007. (Close)
---
All was quiet here until the 1st of April, when all was in readiness, and the order was given to strike tents and move on to Richmond. During Sunday night the brigade was out in line of battle, and at three o'clock in the morning the rebels blew up three gun boats and commenced vacating their works in our front. At 5 A.M the troops commenced to advance on the rebel works--the 29th taking the advance, the 9th U.S.C.[olored] troops next. Soon refugees from the rebels came in by hundreds. Col. W. B. Wooster passed them about, and made them go before the regiment and dig up the torpedoes that were left in the ground to prevent the progress of the Union Army. They were very numerous, but to the surprise of officers and men, none of the army were injured by them.

On our march to Richmond, we captured 500 pieces of artillery, some of the largest kind, 6,000 small arms, and the prisoners I was not able to number. The road was strewed with all kinds of obstacles, and men were lying all along the distance of seven miles. The main body of the army went up the New Market road. The 29th skirmished all the way, and arrived in the city at 7 A.M., and were the first infantry that entered the city; they went at double quick most of the way. When Col. Wooster came to Main St. he pointed his sword at the capitol, and said "Double quick, march," and the company charged through the main street to the capitol and halted in the square until the rest of the regiment came up.

Very soon after the arrival of the white troops the colored troops were moved on the outskirts of the city, and as fast as the white troops came in the colored troops were ordered out, until we occupied the advance. The white troops remained in the city as guards. We remained on the outpost.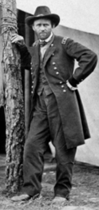 A Union force of 115,000 under General Grant, pictured here, pursued and surrounded the ration-deprived 28,000-strong Confederate force of General Lee in April, who surrendered to the stubble-bearded and informally dressed Grant at Appomattox Court House in Virginia. Grant addressed Lee thus:
I met you once before, General Lee, while we were serving in Mexico. I have always remembered your appearance, and I think I should have recognized you anywhere.
The tattered and hungry Confederate troops--"Lee's Ragamuffins"--were permitted to keep their sidearms and their private horses for spring plowing. When Union soldiers began to cheer with their victory over their long-time enemy, Grant ordered them to be silent:
The war is over. The rebels are our countrymen again.
The war wasn't quite over yet, actually, since there were other Confederate forces who had not yet surrendered--but the end was very near.

President Lincoln traveled to Richmond and sat in Davis's office, saying:
Thank God I have lived to see this.
When Lincoln walked the rubble-filled streets, freed slaves crowded around him to touch "Father Abraham." When one dropped to his knees, the President said:
Don't kneel to me. This is not right. You must kneel to God only, and thank Him for the liberty you will enjoy hereafter.
Here is the description offered by J. J. Hill of the 29th Connecticut Colored Infantry Regiment:
[On April] 3d President Lincoln visited the city. No triumphal march of a conqueror could have equalled in moral sublimity the humble manner in which he entered Richmond. I was standing on the bank of the James river viewing the scene of desolation when a boat, pulled by twelve sailors, came up the stream. It contained President Lincoln and his son.… In some way the colored people on the bank of the river ascertained that the tall man wearing the black hat was President Lincoln. There was a sudden shout and clapping of hands. I was very much amused at the plight of one officer who had in charge fifty colored men to put to work on the ruined buildings; he found himself alone, for they left work and crowded to see the President. As he approached I said to a woman, "Madam, there is the man that made you free." She exclaimed, "Is that President Lincoln?" My reply was in the affirmative.

She gazed at him with clasped hands and said, "Glory to God. Give Him praise for his goodness," and she shouted till her voice failed her.
Confederate President Davis, on the run, was looking for a new capital, and in early April issued a proclamation that the Southerners had
now entered upon a new phase of the struggle, the memory of which is to endure for all ages.(7)

---

This and the following quotations of Davis are cited in Morison, op. cit., p. 701. (Close)

---
He counseled "unquenchable resolve" in order to make a Confederate victory certain. He met with General Johnston and General Pierre Gustave Toutant de Beauregard, 46, in Greensboro, NC, and exhorted them to continue the war. His cabinet urged him to give it up, but he refused; he took to the road with whatever was left of the treasury in a carriage. A few days later, Johnston surrendered his army to General Sherman.

President Davis reached Abbeville, SC, at the beginning of May and implored cavalry officers there to stand firm.
Three thousand brave men are enough for a nucleus around which the whole people will rally.
The officers told him the grim truth, however, and Davis responded:
All is indeed lost.
His cabinet ministers skedaddled, and on May 10, Davis was captured by Union troops near Irwinsville, GA. He was imprisoned in a casemate at Fortress Monroe, on the coast of Virginia, under the authority of General Nelson Appleton Miles, 26. After he hurled his first rations into the face of the corporal who brought them to him, he was placed in irons for three days. Thereafter he enjoyed an ordinary incarceration.

Confederate Lieutenant General Richard Taylor, 39, surrendered all remaining Confederate forces east of the Mississippi. In late May in New Orleans, General Simon Bolivar Buckner, 42, negotiated the surrender of all forces west of the river. (Meanwhile, however, Confederates won the Battle of Palmetto Ranch near the Rio Grande.) Indian allies of the Confederacy under Colonels Stand Watie of the Cherokee and Peter B. Pitchlynn of the Chocktaw finally surrendered in late June. The remaining vessels of the Confederate navy which were in port were scuttled or burned; their crews went home. The CSS Shenandoah destroyed Yankee whalers in the Pacific during the summer, until its crew finally sailed to England and surrendered to British authorities in November.

The Union had lost 360,222 men during the 4-year war, 110,000 of them in battle (most of the rest to disease, including 29,336 to typhoid, 15,570 to "other fevers," 44,558 to dysentery, and 26,468 to such pulmonary diseases as tuberculosis). The Confederacy had lost 258,000, including 94,000 in battle. There were at least 471,427 wounded on both sides. (If the casualty proportion of the population were translated to today's America, it would be as though the war had produced more than 10 million dead and wounded!)

Direct monetary costs of the war totaled about $15 billion ($180 billion in 2006 dollars), but this figure does not account for such continuing expenses as pensions and interest on the national debt. No one can calculate such intangible costs as dislocations, disunities, wasted energies, diminished ethics, ruined lives, bitter memories, and persistent hatreds.
---
Just a few days after Lee's surrender, while attending a Good Friday performance of Tom Taylor's "celebrated eccentric comedy" Our American Cousin, which featured actress Laura Keene in the starring role of Florence Trenchard, at the Ford's Theater in Washington, DC, President Lincoln was assassinated by actor John Wilkes Booth, 27 (son of the late English-American actor Junius Brutus Booth and brother of the eminent Shakespearean actor Edwin Thomas Booth), who had climbed the stairway to Lincoln's box, shot the President in the head with his small pistol, leapt to the stage (thereby breaking his leg) with the cry "Sic semper tyrannis! The South is avenged!" limped out the back door, and escaped on a waiting horse.

Fellow conspirators of Booth unsuccessfully attempted to assassinate various statesmen, including Vice President Andrew Johnson and Secretary of State William H. Seward, 64. Informed that Lincoln had finally died, after lingering unconscious for several hours, War Secretary Edward McMasters Stanton, 41, pictured here, remarked
Now he belongs to the ages.
Navy Secretary Gideon Welles, 63, described what the rest of that day was like(8):
---
Quoted in ibid., p. 704. (Close)
---
I went after breakfast to the Executive Mansion. There was a cheerless cold rain and everything seemed gloomy. On the Avenue in front of the White House were several hundred colored people, mostly women and children, weeping and wailing their loss. This crowd did not appear to diminish through the whole of that cold, wet day; they seemed not to know what was to be their fate since their great benefactor was dead, and their hopeless grief affected me more than almost anything else, although strong and brave men wept when I met them.
Almost everyone was shocked by the assassination; even Confederates for the most part expressed regret. Wisconsin Copperhead journalist Marcus Mills "Brick" Pomeroy, 32, was happy, however(9):
---
Quoted in ibid., p. 705. (Close)
---
The shameless tyrant, justly felled by an avenging hand, rots in his grave, while his soul is consumed by eternal fire at the bottom of the blackest hole in hell.
The assassin Booth, the "avenging hand," was not found for nearly 2 weeks, when he either was killed by his captors or died by his own hand. The fellow conspirators were captured and hanged in July.

Reuters News Service American agent James McClean, after learning of the assassination, hired a tug, overtook the mailboat bound for Britain, and threw aboard a canister containing his news dispatch, thereby scooping all competition with the story.

Hot-tempered and impetuous Vice President Andrew Johnson was inaugurated as President.

Swiss immigrant Captain Henry Wirz, 42, who had been the commandant of the Confederate prison camp in Andersonville, GA, was tried for his part in the deaths of more than 12,000 Union prisoners in 14 months (as many as 97 on a single day). After Wirz spurned an offer of a pardon if he would testify against Jefferson Davis, he was convicted of "murder, in violation of the laws and customs of war" and was hanged in November in the Old Capitol Prison at the foot of Capitol Hill in Washington, DC.

There were a million men in the Union Army when Lee surrendered in April; by November there were only 183,000.
---
Reconstruction and reaction
At the end of the Civil War, the South possessed only 12% of the national wealth, down from 30% at the beginning of the war. The average per-capita income of Southerners (including slaves) had been about two-thirds that of Northerners at the beginning of the war; now it was two-fifths, where it would stay for the rest of the century.

In many areas, every house, barn, and bridge had been destroyed. Such handsome antebellum cities as Richmond, Charleston, Savannah, and Atlanta were strewn with rubble and choked with weeds. One resident of Atlanta returned to his hometown and remarked:
Hell has laid her egg, and right here it hatched.(10)

---

Quoted in Bailey, Thomas A., Kennedy, David M., and Cohen, Lizabeth, The American Pageant: A History of the Republic, Boston: Houghton Mifflin, 1998, p. 488. (Close)

---
A federal relief commission was formed to alleviate suffering in Richmond.(11)
---
Much of the following description of the devastation in the South is from Shotgun's Home of the American Civil War, "The Post Civil War South" (http://www.civilwarhome.com/postwarsouth.htm), accessed 28 January 2007. (Close)
---
The city was divided into thirty districts, and house-to-house visiting was instituted. By April 21, some 128,000 rations had been issued, and it was estimated that 15,000 persons had been given relief. A report of the time stated that 35,000 persons in the region near Atlanta were dependent for subsistence upon the federal government, and that in Atlanta itself there were 15,000 recipients. Many Confederate soldiers, just discharged from Northern prisons, were given rations. A Southern soldier remarked that
it must be a matter of gratitude as well as surprise, for our people to see a Government which was lately fighting us with fire, and sword, and shell, now generously feeding our poor and distressed.… There is much in this that takes away the bitter sting… of the past.
Southerners were without adequate currency. They had put their wealth into Confederate bonds or had given their produce for such bonds; now these securities, together with Confederate money, were utterly worthless. Prominent men, including Confederate generals, were
asking what they could do to earn their bread.
Banks and business houses, ruined by the runaway inflation, were locked up; depositors lost all their savings.

Whatever factories the South had possessed were now silent and were being dismantled. Transportation had completely collapsed; two-thirds of the South's railroad tracks had been turned into twisted scrap. The nearest railroad to Columbia, SC, formerly a convergence point of five different lines, was now 29 miles away. Southerners were pulling up rails on less-used lines to repair the main ones. Window weights had been melted down to make bullets, gourds had replaced dishes, and pins were extremely scarce.

Even agriculture, formerly the strongest economic endeavor in the South, was hopelessly crippled. Seed was scarce, livestock had been driven off by plundering Union forces, and, of course, the slave labor system had collapsed. Men were hitching themselves up to plows, with their women and children gripping the handles.

Many of the people had no homes.
From Winchester to Harrisonburg scarce a crop, fence, chicken, horse, cow, or pig was in sight.… Extreme destitution prevailed throughout the entire valley. All able-bodied negroes had left; only those unfit to work remained. The country between Washington and Richmond was… like a desert.
Most of the 5 million bales of cotton on hand was seized and sold by federal agents, most of the proceeds from the sale going into the pockets of those agents. The government then put a heavy tax on cotton.

The newly humbled princely planter aristocrats possessed gutted mansions, nearly worthless land, and evaporated investments, including their investments of more than $2 billion in slaves ($24.1 billion in 2006 dollars). The formerly wealthy South was now rich in little but amputees, war heroes, ruins, and memories. Historians Bailey, Kennedy, and Cohen summarized the questions that now faced the "reunited" nation:
How would the South, physically devastated by war and socially revolutionized by emancipation, be rebuilt? How would the liberated blacks fare as free men and women? How would the Southern states be reintegrated into the Union?… [Who] would direct the process of Reconstruction--the Southern states themselves, the [President], or Congress? What should be done with the captured Confederate ringleaders, all of whom were liable to charges of treason?(12)

---

Quoted in Bailey et al., op. cit., p. 487. (Close)

---
Here is what Mill and Jule, two female slaves who were set free by sailors on a gunboat passing their plantation, had to say:
An' we got on the boat in a hurry.… [We] all give three times three cheers for the gunboat boys, and three times three cheers for big Yankee [soldiers], an' three times three cheers for gov'ment; an' I tell you every one of us, big and little, cheered loud and long and strong, an' made the old river just ring ag'in.(13)

---

Many of these quotes are taken from "Transwiki: American History Primary Sources Reconstruction and the New South," Wikiquote (part of Wikimedia Foundation, Inc.), at http://en.wikiquote.org/wiki/Transwiki:American_History _Primary_Sources_Reconstruction _and_the_New_South, accessed 7 April 2007. (Close)

---
In the vanquished South, slaveowners were forced to emancipate their 4 million human chattel. Many of the newly freed slaves took on new names and began demanding that their former masters address them as "Mr." and "Mrs." One realistic white Southerner wrote:
Never before had I a word of impudence from any of our black folk, but they are not ours any longer.
Eliza Andrews, a Georgia plantation mistress, had this to say after a former slave refused to give way to her on a sidewalk:
It is the first time in my life that I ever had to give up the sidewalk to a man, much less to negroes!
The daughter of a Georgia plantation owner remarked:
It seems humiliating to be compelled to bargain and haggle with our own servants about wages.
Many blacks began wearing silks, satins, and other finery. Here is what escaped slave James Henson reported on his exchange with his former mistress said when he stopped by her plantation in Montgomery County, Maryland:
"Why, Si, you're a gentleman now."
"Ma'am, I always was a gentleman."
Newly freed slave Houston H. Holloway, 20, reported his feelings about emancipation:
I felt like a bird out of a cage. Amen. Amen. Amen. I could hardly ask to feel any better than I did that day.… The week passed off in a blaze of glory.
For many of the newly freed, moving away was a clear sign of freedom. Patience Johnson, a South Carolina house servant, declined her former owner's offer of wages:
I must go. If I stay here, I'll never know I am free.
A freedman later recalled how great numbers of former slaves began a great migration:
Right off colored folk started on the move. They seemed to want to get closer to freedom, so they'd know what it was--like it was a place or a city.
Tens of thousands of emancipated blacks were now on the roads--either to test their freedom or to search for long-lost spouses, children, and parents. Freedman Parke Johnson remembered:
Just think of whole droves of people, that had always been kept so close, and hardly ever left the plantation before, turned loose all at once, with nothing in the world, but what they had on their backs.
One Union officer wrote home about the reunion of slave relatives:
Men are taking their wives and children, families which had been for a long time broken up are now united and oh! such happiness. I am glad I am here.
In March, the 39th Congress created the Freedmen's Bureau, a kind of welfare agency headed by Union General Oliver Otis Howard, 35, a white Congregationalist, to deal with the newly freed slaves--propertyless, moneyless, unskilled, unlettered, with little knowledge of how to survive as free human beings. Its mission was to provide food, clothing, medical care, and education. A Freedmen's Bureau agent reported the following:
In their eyes, the work of emancipation was incomplete until the families which had been dispersed by slavery were reunited.
Former slave Hawkins Wilson wrote to his sister, whom he presumed might still be on the plantation where they had been enslaved:
Dear Sister Jane, Your little brother Hawkins is trying to find out where you are and where his poor old mother is--Let me know and I will come to see you--I shall never forget the bag of biscuits you made for me.… Please send me some of Julia's hair whom I left as a baby in the cradle when I was torn away from you.
Former Georgia slave William Curtis remarked on the return of his father, who had been sold to a planter in Virginia:
[The] best thing about the war setting us free, [was] he could come back to us.
Many of the newly freed formalized their "slave marriages," but sometimes there was no remedy for marriages that slavery had torn asunder. Slaves Laura Spicer and her children had been sold from her husband (their father) and now wanted to reunite with him. Unfortunately, he had remarried, but he wrote the following letter to Laura, describing the pain of their separation and yet wishing Laura would find another husband to care for the family(14):
---
Quoted in Taylor, op. cit., citing Gutman, Herbert, The Black Family in Slavery and Freedom, 1750-1925 (New York, 1926), pp. 6-7, taken from http://faculty.washington.edu/qtaylor/Courses/101_USH/101_manual_4.htm, accessed 1 February 2007. (Close)
---
I would much rather you would get married to some good man, for every time I gits a letter from you it tears me all to pieces. The reason why I have not written you before, in a long time, is because your letters disturbed me so very much. You know I love my children. I treats them good as a Father can treat his children; and I do a good deal of it for you. I am sorry to hear that Lewellyn, my poor little son, have had such bad health. I would come and see you but I know you could not bear it. I want to see and I don't want to see you. I love you just as well as I did the last day I saw you, and it will not do for you and I to meet. I am married, and my wife have two children, and if you and I meets it would make a very dissatisfied family.

Send me some of the children's hair in a separate paper with their names on the paper. Will you please git married, as long as I am married. My dear, you know the Lord knows both of our hearts. You know it never was our wishes to be separated from each other, and it never was our fault. Oh, I can see you so plain, at any-time, I had rather anything to had happened to me most than ever to have been parted from you and the children. As I am, I do not know which I love best, you or Anna. If I was to die, today or tomorrow, I do not think I would die satisfied till you tell me you will try and marry some good, smart man that will take care of you and the children; and do it because you love me; and not because I think more of the wife I have got then I do of you.

The woman is not born that feels as near to me as you do. You feel this day like myself. Tell them they must remember they have a good father and one that cares for them and one that thinks about them every day--My very heart did ache when reading your very kind and interesting letter. Laura I do not think I have change any at all since I saw you last.--I think of you and my children every day of my life.

Laura I do love you the same. My love to you never have failed. Laura, truly, I have got another wife, and I am very sorry, that I am. You feels and seems to me as much like my dear loving wife, as you ever did Laura. You know my treatment to a wife and you know how I am about my children. You know I am one man that do love my children.…
Isolated Texas had become a place of refuge for slaveholders seeking to ensure that their "property" would not hear of freedom.(15)
---
Excerpted from Taylor, Quintard, "The Juneteenth Celebration, 1865-1992," Eugene Register-Guard, June 8, 1992, pp. 1D, 4D., also citing Marcus, Robert D., and Burner, David, America Firsthand: From Reconstruction to the Present (New York: St. Martin's Press, 1989), p. 11, taken from http://faculty.washington.edu/qtaylor/Courses/101_USH/101_manual_4.htm, accessed 31 January 2007. (Close)
---
Finally on June 19, a day that would be thenceforward celebrated as "Juneteenth," federal troops landed at Galveston. Word of emancipation gradually spread over the state despite the efforts of some slaveholders to maintain slavery, but blacks would not be denied the liberty that had eluded them so long. When the news came entire plantations were deserted. Felix Haywood, who had been born a slave in Raleigh, NC, gained his freedom in San Antonio, when word finally reached there. Here is how he later recalled the day:
Soldiers, all of a sudden, was everywhere--coming in bunches, crossing and walking and riding. Everyone was a-singing. We was all walking on golden clouds. Hallelujah!

Union forever
Hurrah, boys, hurrah!
Although I may be poor,
I'll never be a slave--
Shouting the battle cry of freedom.

Everybody went wild. We felt like heroes, and nobody had made us that way but ourselves. We was free. Just like that, we was free. It didn't seem to make the whites mad, either. They went right on giving us food just the same. Nobody took our homes away, but right off colored folks started on the move. They seemed to want to get closer to freedom, so they'd know what it was--like it was a place or a city. Me and my father stuck, close as a lean tick to a sick kitten. The Gudlows started us out on a ranch. My father, he'd round up cattle--unbranded cattle--for the whites. They was cattle that they belonged to, all right; they had gone to find water 'long the San Antonio River and the Guadalupe. Then the whites gave me and my father some cattle for our own. My father had his own brand--7 B)--and we had a herd to start out with of seventy.

We knowed freedom was on us, but we didn't know what was to come with it. We thought we was going to get rich like the white folks. We thought we was going to be richer than the white folks, 'cause we was stronger and knowed how to work, and the whites didn't, and they didn't have us to work for them any more. But it didn't turn out that way. We soon found out that freedom could make folks proud, but it didn't make 'em rich.

Did you ever stop to think that thinking don't do any good when you do it too late? Well, that's how it was with us. If every mother's son of a black had thrown 'way his hoe and took up a gun to fight for his own freedom along with the Yankees, the war'd been over before it began. But we didn't do it. We couldn't help stick to our masters. We couldn't no more shot 'em than we could fly. My father and me used to talk 'bout it. We decided we was too soft and freedom wasn't going to be much to our good even if we had a education.
Another former Texas slave responded this way to the question of which she preferred, slavery or freedom(16):
---
From "Transwiki," op. cit. (Close)
---
In slavery I owns nothin'. In freedom I's own de home and raise de family. All dat cause me worryment and in slavery I has no worryment, but I takes de freedom.
Many blacks who had been brought from Arkansas, Louisiana, or Missouri during the war returned home; others headed for Galveston, Houston, and other Texas cities where Federal troops were stationed.

Some newly freed slaves left for the North. When the former owner wrote to freed slave Jourdan Anderson, now residing in Ohio, Anderson wrote back as follows(17):
---
Quoted in Davidson, James West, and Stoff, Michael B., The American Nation, Englewood Cliffs, NJ: Prentice Hall, 1986, 1995, p. 489. (Close)
---
SIR: I got your letter, and was glad to find that you had not forgotten Jourdan, and that you wanted me to come back and live with you again.…

I am doing tolerably well here. I get twenty-five dollars a month ($300.75 a month in 2006 dollars), with [food] and clothing; have a comfortable home for Mandy--the folks call her Mrs. Anderson--and the children… go to school and are learning well.…

Mandy says she would be afraid to go back without some proof that you were disposed to treat us justly and kindly, and we have concluded to test your sincerity by asking you to send us our wages for the time we served you.… I served you faithfully for thirty-two years, and Mandy for twenty years.… If you fail to pay us our faithful labors in the past, we can have little faith in your promises in the future.… We trust the good Maker has opened your eyes to the wrongs which you and your fathers have done to me and my fathers, in making us toil for you for generations without [pay].…

In answering this letter, please state… if there has been any schools opened for the colored children in your neighborhood. The great desire of my life now is to give my children an education.

From your old servant,
JOURDAN ANDERSON
The newly elected 39th Congress passed the Thirteenth Amendment to the Constitution, abolishing slavery or any other denial of liberty "without due process of law." The Amendment was submitted for ratification to the states.
Most of the newly freed had no land, no jobs, and no education. Many of them moved from the plantations to work in cities and towns, where they were protected and where they enjoyed mutual assistance from existing black communities. The church became a focus of community life, and black churches, such as the black Baptist Church and the African Methodist Episcopal Church, grew robustly and gave rise to other benevolent mutual aid societies. Former slave Nancy Williams responded this way when asked why former slaves, who had been subjected to white preachers sermonizing at them on the plantations, had begun going to their own churches after the Civil War(18):
---
From "Transwiki," op. cit. (Close)
---
That old white preachin' wasn't nothin'. Old white preachers used to talk with their tongues without sayin' nothin', but Jesus told us slaves to talk with our hearts.
Many Northerners moved to the defeated South to capitalize on its political and economic opportunities of the Reconstruction new order. Many Southerners regarded them with contempt and referred to them as "carpetbaggers," implying that they would be able to stuff everything they owned into a carpetbag, the common hand luggage of the time, on their way south to seek personal power and profit. Some white Southerners, usually former Unionists and Whigs, joined in the Reconstruction effort and were referred to as "scalawags" by other whites, sullen with the bitter defeat.
President Lincoln had proposed a gradual enfranchisement of the freed slaves: Those who qualified for the ballot through education, property ownership, or military service (especially military service). President Johnson concurred with this approach. Johnson at first sounded like a radical Reconstructionist. Here are some of his words in April:
It is not promulgating anything that I have not heretofore said to say that traitors must be made odious, that treason must be made odious, that traitors must be punished and impoverished. They must not only be punished, but their social power must be destroyed. If not, they will still maintain an ascendancy, and may again become numerous and powerful: for, in the words of a former Senator of the United States, "When traitors become numerous enough, treason becomes respectable."(19)

---

Quoted in Bailey et al., op cit., p. 493. (Close)

---
The martyred President Lincoln had asserted that the Southern states had never withdrawn from the Union legally; 2 years earlier he had proclaimed a "10-percent" Reconstruction plan for these states once they had been brought back in: Whenever 10% of all a rebel state's voters in the 1860 Presidential Election took an oath of allegiance to the United States and agreed to abide with emancipation, that state could formally elect a new state government, which would be recognized by the federal government. "Radical" Republicans in Congress, however, fearing any restoration of the planter aristocracy to power in the South and the possible re-enslavement of the blacks, had sharply condemned President Lincoln's "10-percent" proclamation. Insisting that the seceders had indeed left the Union--that they had "committed suicide" as republican states, that they were now "conquered provinces"--the radicals had the preceding year rammed the Wade-Davis Bill through Congress, requiring 50% of a state's voters to take the oath of allegiance, disfranchising and barring from political office anyone who had volunteered to fight for the Confederacy, and demanding stronger emancipation safeguards. Lincoln had refused to sign the bill after Congress adjourned, thereby "pocket-vetoing" it and outraging the radicals. When reconquered Louisiana had reorganized its government in accordance with Lincoln's proposal, it had sent delegates to Washington, DC, but the reconvened Congress had refused to seat them.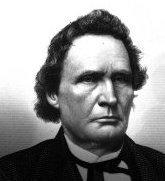 Moderate Republicans were willing to readmit the seceded states to the Union as swiftly and simply as possible, but on conditions determined by Congress. The radicals wanted to punish the South severely, uprooting its social structure, bringing the proud planters low, and protecting the newly freed slaves with federal power. Pennsylvania Congressman Thaddeus Stevens, 73, pictured here, speaking in September in Lancaster, PA, insisted that
the property of the chief rebels should be seized and appropriated to the payment of the National debt, caused by the unjust and wicked war which they instigated.… [We] propose to confiscate all the estate of every rebel belligerent whose estate was worth $10,000

($120,300 in 2006 dollars)

, or whose land exceeded two hundred acres in quantity.… There are about six millions of freedmen in the South. The number of acres of land is 465,000,000. Of this, those who own above two hundred acres each number about 70,000 persons, holding in the aggregate, (together with the states), about 394,000,000 acres, leaving for all the others below 200 each about 71,000,000 of acres. By thus forfeiting the estates of the leading rebels, the government would have 394,000,000 of acres, beside their property, and yet nine-tenths of the people would remain untouched. Divide this land into convenient farms. Give, if you please, forty acres to each adult male freedman. Suppose there are one million of them. That would require 40,000,000 acres, which, deducted from 394,000,000, leaves 354,000,000 of acres for sale. Divided into suitable farms, and sell it to the highest bidders. I take it, including town pro[p]erty, would average at least $10 per acre. That would produce $3,540,000,000--three billions five hundred forty millions of dollars

($42.6 billion in 2006 dollars)

.

Let that be applied as follows to wit:

Invest $300,000,000

($2.36 billion)

in six per cent government bonds and add the interest semi-annually to the pensions of those who have bec[o]me entitled by this vill[ai]nous war.
Appropriate $200,000,000

($2.41 billion)

to pay the damages done to loyal men, North and South, by the rebellion.
Pay the residue, being $3,040,000,000

($36.6 billion)

towards payment of the National debt.

What loyal man can object to this? Look around you, and even where behold your neighbors, some with an arm, some with a leg, some with an eye, carried away by rebel bullets. Others horribly mutilated in every form. And yet numerous others wearing the weed which mark the death of those on whom they leaned for support. Contemplate these monuments of rebel perfidy, and of patriotic suffering, and then say if too much is asked for our valiant soldiers.… The learned and able professor at law in the Cambridge University, THEOPHILUS PARSONS, lately said in a public speech: "As we are victorious in war we have a right to impose upon the defeated party any terms necessary for our security.… The rebels forced a war upon us; it was a long and costly and bloody war; and now that we have conquered them, we have all the rights which victory confers."…

The whole fabric of southern society must be changed, and never can it be done if this opportunity is lost. Without this, this Government can never be, as it never has been, a true republic. Heretofore, it had more the features of aristocracy than of democracy. The Southern States have been despotism's, not governments of the people. It is impossible that any practical equality of rights can exist where a few thousand men monopolize the whole landed property. The larger the number of small proprietors the more safe and stable the government. As the landed interest must govern, the more it is subdivided and held by independent owners, the better.… If the South is ever to be made a safe republic, let her lands be cultivated by the toil of the owners or the free labor of intelligent citizens. This must be done even though it drive her nobility into exile. If they go, all the better.…

It is far easier and more beneficial to exile 70,000 proud, bloated and defiant rebels, than to expatriate four millions of laborers, native to the soil and loyal to the Government.…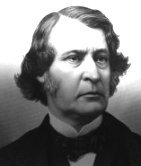 Senator Charles Sumner of Massachusetts, 54, pictured here, agreed with Stevens:
We must see that the freedmen are established on the soil.… The great plantations, which have been so many nurseries of the rebellion, must be broken up, and the freedmen must have the pieces.
Indiana Congressman George W. Julian had this to say on reconstructing the South(20):
---
From "Transwiki," op. cit. (Close)
---
The Federal Government must eliminate the South's large estates, widely scattered settlements, wasteful agriculture, popular ignorance, social degradation, the decline of manufactures, contempt for honest labor, and a pampered oligarchy… [and replace it with] small farms, thrifty tillage, free schools, social independence, flourishing manufactures and the arts, respect for honest labor, and equality of political rights.
Here is former slave Bayley Wyat on that subject(21):
---
From ibid. (Close)
---
Our wives, our children, our husbands, has been sold over and over again to purchase the lands we now locates upon. We have a divine right to the land.
The radicals were hopeful that spiteful "Andy" Johnson, sharing their hatred of the planter aristocrats, would be equally harsh with Reconstruction. Ohio Republican Senator Benjamin Franklin Wade, 65, confided in the new President:
Johnson, we have faith in you. By the gods, there will be no trouble now in running the government!(22)

---

Quoted in Garraty, op. cit., p. 429. (Close)

---
The radicals really did not understand who Johnson was, however; yes, because of his "poor white" background, he hate planter aristocrats with their legions of slaves, but he was no friend of the freed slave. In Congress, he had once proclaimed:
I wish to God, every head of a family in the United States had one slave to take the drudgery and menial service off his family.(23)

---

Quoted in ibid., pp. 429-30. (Close)

---
In the end, President Johnson concurred with Lincoln that the rebels had never legally been outside the Union, and he recognized several of the "10-percent" state governments.

In May President Johnson issued his own Reconstruction proclamation; for one thing, it called for the disfranchisement of leading Confederates, including those with property worth more than $20,000 ($241,000 in 2006 dollars)--though these might petition him for personal pardons. The proclamation also called for state conventions to repeal the secession ordinances, repudiating all Confederate debts, and ratifying the emancipatory Thirteenth Amendment to the Constitution. Any state complying with these stipulations could be readmitted to the Union. The President granted an abundance of personal pardons, re-enfranchising a multitude of leading Confederates. The President was apparently exhilarated by the flattery of wealthy plantation aristocrats seeking pardons with their hats in their hands:
I did not expect to keep out all who were excluded from the amnesty.… I intended they should sue for pardon, and so realize the enormity of their crime.(24)

---

Quoted in ibid., p. 432. (Close)

---
The recently rebellious states rapidly reorganized governments, repealing the secession ordinances that had started the war, and ratifying the hated amendment. Of course, no blacks were permitted to vote. The Republicans were appalled.

A New York Tribune reporter visited the South and described the enduring ill will the former Confederates held for the Yankees:
[The] people wanted civil government and a settlement, [but] they made no hypocritical professions of newborn unionism.… The hatred of Yankees… had grown and strengthened with the war.(25)

---

Quoted in ibid., p. 430. (Close)

---
Beginning with Mississippi in November, the new state governments began to pass draconian laws, known as "Black Codes," primarily to ensure, as in antebellum days, a stable and subservient labor force of black field hands and plow drivers. For example, here are some stipulations in the South Carolina Black Code:
[No] person of color shall pursue or practice the art, trade, or business of an artisan, mechanic, or shopkeeper, or any other trade employment, or business, besides that of husbandry [farming], or that of a servant under contract for service or labor [without buying an expensive permit].
Blacks were restricted to occupations of farming or domestic service. The Louisiana code required all blacks to sign labor contracts for the year during the first 10 days of January. Any black who "jumped" his labor contract, which committed him to work for pittance wages for a single employer, was subject to severe penalties, including apprehension by a "Negro catcher," forfeiture of back wages, heavy fines that had to be paid for in labor--in essence, a re-enslavement.

Although "freedom" was legally recognized in the Black Codes, including the right to marry, no black could vote or serve on a jury. Blacks could not bear arms. In some states, a black was forbidden to rent or lease land. A black who was deemed as a "vagrant" might be prosecuted for "idleness" and sentenced to work on a chain gang. The Mississippi code applied the term vagrant to jugglers, "common night-walkers," and individuals who
habitually misspend their time by frequenting houses of ill-fame, gaming houses, or tippling shops.(26)

---

Quoted in ibid., p. 431. (Close)
Any such "vagrant" unable to pay the stiff fine assessed would be "hired out… at public outcry" to any white who would bid in auction the shortest labor period in return for paying the fine.

From Mississippi's Black Code:
Negroes must make annual contracts for their labor in writing; if they should run away from their tasks, they forfeited their wages for the year. Whenever it was required of them they must present licenses ... citing their places of residence and authorizing them to work. Fugitives from labor were to be arrested and carried back to their employers.... It was made a misdemeanor, punishable with fine or imprisonment, to persuade a freedman to leave his employer, or to feed the runaway. Minors were to be apprenticed, if males until they were 21, if females until 18 years of age. Such corporal punishment as a father would administer to a child might be inflicted upon apprentices by their masters. Vagrants were to be fined heavily, and if they could not pay the sum, they were to be hired out to service until the claim was satisfied. Negroes might not carry knives or firearms unless they were licensed so to do. It was an offence (sic), to be punished by a fine of $50 and imprisonment for 30 days, to give or sell intoxicating liquors to a Negro. When Negroes could not pay the fines and costs after legal proceedings, they were to be hired at public outcry by the sheriff to the lowest bidder....
Here are some other stipulations, prohibiting the following:
[Former slaves] committing riots, routs, affrays, trespasses, malicious mischief, cruel treatment to animals, seditious speeches, insulting gestures, language, or acts, or assaults on any person, disturbance of the peace, exercising the function of a minister of the Gospel without a license,… vending spiritous or intoxicating liquors, or committing any other misdemeanor, the punishment of which is not specifically provided for by law.
One black who was a Union veteran protested his being forced to sign a 12-month labor contract or be arrested for vagrancy:
If you call this Freedom, what do you call Slavery?
Northerners were outraged at these codes. The following is from an editorial in the Chicago Tribune:
The men of the North will convert the State of Mississippi into a frog pond before they will allow such laws to disgrace one foot of soil in which the bones of our soldiers sleep and over which the flag of freedom waves.

The petulant and dogmatic Horace Greeley, 54, pictured here, editor and publisher of the New York Tribune, wrote the following in an editorial(27):
---
From "Transwiki," op. cit. (Close)
---
The gentlemen of the South mean to win. They meant it in 1861 when they opened fire on Sumter. They meant it in 1865 when they sent a bullet through the brain of Abraham Lincoln. They mean it now. The moment we remove the iron hand from the Rebels' throats they will rise and attempt the mastery.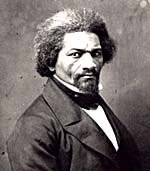 There was strong agitation not just for emancipation but also for enfranchisement of American blacks. Here is Frederick Douglass, 47, pictured here, on giving blacks the right to vote in his "What the Black Man Wants" address before the Massachusetts Anti-Slavery Society(28):
---
From ibid. (Close)
---
I am for the "immediate, unconditional, and universal" enfranchisement of the black man, in every State of the Union. Without this, his liberty is a mockery; without this, you might as well almost retain the old name of slavery for his condition; for in fact, if he is not the slave of the individual master, he is the slave of society, and holds his liberty as a privilege, not as a right. He is at the mercy of the mob, and has no means of protecting himself.… It may be asked, "Why do you want it? Some men have got along very well without it. Women have not this right." Shall we justify one wrong by another? This is the sufficient answer. Shall we at this moment justify the deprivation of the Negro of the right to vote, because some one else is deprived of that privilege? I hold that women, as well as men, have the right to vote, and my heart and voice go with the movement to extend the suffrage to women.… We may be asked, I say, why we want it. I will tell you why we want it. We want it because it is our right, first of all. No class of man can, without insulting their own nature, be content with any deprivation of their rights. We want it, again, as a means for educating our race. Men are so constituted that they derive their conviction of their own possibilities largely by the estimate formed of them by others. If nothing is expected of a people, that people will find it difficult to contradict that expectation. By depriving us of suffrage, you affirm our incapacity to form an intelligent judgment respecting public men and public measures; you declare before the world that we are unfit to exercise the elective franchise, and by this means lead us to undervalue ourselves.
A group of South Carolina blacks sent the following in a letter to Congress(29):
---
From ibid. (Close)
---
We would ask for no rights or privileges but such as rest upon the strong basis of justice.… We ask first, that the strong arm of law and order be placed alike over the entire people of this State; that life and property be secured, and the laborer free to sell his labor as the merchant [sells] his goods. We ask that a fair and impartial instruction be given to the pledges of the government to us concerning the land question. We ask that the three great agents of civilized society--the school, the pulpit, the press--be as secure in South Carolina as in Massachusetts or Vermont. We ask that equal suffrage be conferred upon us, in common with the white men of this State. This we ask, because "all free governments derive their just powers from the consent of the governed"; and we are largely the majority in this State, bearing for a long period the burden of onerous taxation, without a just representation.
And here is a statement of the Freedmen's Convention of North Carolina(30):
---
From ibid. (Close)
---
[Universal manhood suffrage is] an essential and inseparable element of self-government.… [The Declaration of Independence is] the broadest, the deepest, the most comprehensive and truthful definition of human freedom that was ever given to the world.
Republicans in both houses of Congress were able to establish a Joint Committee on Reconstruction, headed by Senator William Pitt Fessenden, 59, of Maine, a moderate, to study the question of readmitting the Confederate states. General Carl Schurz, 36, working on behalf of this committee, condemned Southern practices in a report to President Johnson, which included the following assertions(31):
---
Schurz, Carl, "Report to Andrew Johnson, President of the United States, December 1865 (taken from http://www.skidmore.edu/~tkuroda/hi324/schurz.htm, accessed 30 January 2007). (Close)
---
… In at least nineteen cases of twenty the reply I received [from Southern men] to my inquiry about their views on the new system was uniformly this: "You cannot make the negro work without physical compulsion." I heard this hundreds of times, heard it wherever I went, heard it in nearly the same words from so many different persons, that at last I came to the conclusion that this is the prevailing sentiment among the Southern people. There are exceptions to this rule but, as far as my information extends, far from enough to affect the rule.… I found but few people who were willing to make due allowance for the adverse influence of exceptional circumstances. … [Every] irregularity that occurred was directly charged against the system of free labor. If negroes walked away from the plantations, it was conclusive proof of the incorrigible instability of the negro, and the impracticability of free negro labor. If some individual negroes violated the terms of their contract, it proved unanswerably that no negro had, or ever would have, a just conception of the binding force of a contract, and that this system of free negro labor was bound to be a failure. If some negroes shirked, or did not perform their task with sufficient alacrity, it was produced as an irrefutable evidence to show that physical compulsion was actually indispensable to make the negro work. If negroes, idlers or refugees crawling about the towns, applied to the authorities for subsistence, it was quoted as incontestably establishing the point that the negro was too improvident to take care of himself, and must necessarily be consigned to the care of a master. I heard a Georgia planter argue most seriously that one of his negroes had shown himself certainly unfit for freedom because he impudently refused to submit to a whipping. I frequently went into an argument with those putting forth such general assertions, quoting instances in which negro laborers were working faithfully, and to the entire satisfaction of their employers, as the employers themselves had informed me. In a majority of cases the reply was that we Northern people did not understand the negro, but that they (the Southerners) did; that as to the particular instances I quoted I was probably mistaken; that I had not closely investigated the cases, or had been deceived by my informants; that they knew the negro would not work without compulsion, and that nobody could make them believe he would. Arguments like these naturally finished such discussions. It frequently struck me that persons who conversed about every other subject calmly and sensibly would lose their temper as soon as the negro question was touched.…

A belief, conviction, or prejudice, or whatever you may call it, so widely spread and apparently so deeply rooted as this… is certainly calculated to have a very serious influence upon the conduct of the people entertaining it. It naturally produced a desire to preserve slavery in its original form as much and as long as possible--and you may, perhaps, remember the admission made by one of the provisional governors, over two months after the close of the war, that the people of his State still indulged in a lingering hope slavery might yet be preserved--or to introduce into the new system that element of physical compulsion which would make the negro work. Efforts were, indeed, made to hold the negro in his old state of subjection, especially in such localities where our military forces had not yet penetrated, or where the country was not garrisoned in detail.… In many instances negroes who walked away from the plantations, or were found upon the roads, were shot or otherwise severely punished, which was calculated to produce the impression among those remaining with their masters that an attempt to escape from slavery would result in certain destruction. A large proportion of the many acts of violence committed is undoubtedly attributable to this motive. For the sake of illustration I will give some instances:

Brigadier-General Fessenden [James D. Fessenden, son of Maine Senator William Pitt Fessenden, head of the Joint Committee on Reconstruction, which had authorized and funded this very document of Schurz] reported to Major-General Gillmore from Winnsboro', South Carolina, July 19th, as follows:

The spirit of the people, especially in those districts not subject to the salutary influence of General Sherman's army, is that of concealed and, in some instances, of open hostility.… A spirit of bitterness and persecution manifests itself towards the negroes. They are shot and abused outside the immediate protection of our forces by men who announce their determination to take the law into their own hands, in defiance of our authority. To protect the negro and punish these still rebellious individuals it will be necessary to have this country pretty thickly settled with soldiers.…

Cases in which negroes were kept on plantations, either by ruse or violence, were frequent enough in South Carolina and Georgia to call forth from General Saxton a circular threatening planters who persisted in this practice with loss of their property, and from Major-General Steedman, commander of the Department of Georgia, an order bearing upon the same subject. At Atlanta, Georgia, I had an opportunity examine some cases of the nature above described. While I was there, 9th and 10th of August, several negroes came into town with bullet and buckshot wounds in their bodies. From their statements, which, however, were only corroborating information previously received, it appeared that the reckless and restless characters of that region had combined to keep the negroes "where they belonged." Several freedmen were shot in the attempt to escape, others succeeded in eluding the vigilance of their persecutors; large numbers, terrified by what they saw and heard, quietly remained under the restraint imposed upon them, waiting for better opportunities. The commander of the sub-district and post informed me that bands of guerrillas were prowling about within a few miles of the city, making it dangerous for soldiers and freedmen to show themselves outside of the immediate reach of the garrison, and that but a few days previous to my arrival a small squad of men he had sent out to serve an order upon a planter, concerning the treatment of freedmen, had been driven back by an armed band of over twenty men, headed by an individual in the uniform of a rebel officer.

… A similar system was followed in Alabama, but enough has become known to indicate the condition of things in localities not immediately under the eye of the military. In that State the efforts made to hold the negro in a state of subjection appear to have been of a particularly atrocious nature. Rumors to that effect which reached me at Montgomery induced me to make inquiries at the post hospital. The records of that institution showed a number of rather startling cases which had occurred immediately after the close of the war, and some of a more recent date; all of which provided that negroes leaving the plantation and found on the roads, were exposed to the savagest treatment. A statement signed by the provost marshall at Selma, Alabama, Major J. P.l Houston, says:

There have come to my notice officially twelve cases, in which I am morally certain the trials have not been had yet, that negroes were killed by whites. In a majority of cases the provocation consisted in the negroes' trying to come to town or to return to the plantation after having been sent away. The cases above enumerated, I am convinced, are but a small part of those that have actually been perpetrated.

In a report to General Swayne, assistant-commissioner of the Freedmen's Bureau in Alabama, communicated to me by the general, Captain Poillon, agent of the bureau at Mobile, says of the condition of things in the southwestern part of the State, July 29th:

There are regular patrols posted on the rivers, who board some of the boats; after the boats leave they hang, shoot or drown the victims they may find on them, and all those found on the roads or coming down the rivers are almost invariably murdered.… The bewildered and terrified freedmen know not what to do--to leave is death; to remain is to suffer the increased burden imposed upon them by the cruel taskmaster, whose only interest is their labor, wrung from them by every device an inhuman ingenuity can devise; hence the lash and murder are resorted to intimidate those whom fear of an awful death alone causes to remain, while patrols, negro dogs, and spies disguised as Yankees, keep constant guard over these unfortunate people.

In a letter addressed to myself, September 9th, Captain Poillon says:

Organized patrols, with negro hounds, keep guard over the thoroughfares; bands of lawless robbers traverse the country, and the unfortunate who attempts to escape, or he who returns for his wife or child, is waylaid or pursued with hounds, and shot or hung.

In Mississippi I received information of a similar character.…

The company was formed out of what they called picked men, i.e., those only who had been actually engaged in the war, and were known as strong disunionists. The negroes in the sections of country these men controlled were kept in the most abject slavery and treated in every way contrary to the requirements of General Orders No. 129, from the War Department.

As late as September 29th, Captain J. H. Weber, agent of the Freedmen's Bureau, reported to Colonel Thomas, assistant-commissioner of the Bureau in the State of Mississippi, as follows:

In many cases negroes who left their homes during the war, and have been within our military lines, and having provided homes here for their families, going back to get their wives and children, have been driven off and told that they could not have them. In several cases guards have been sent to aid people in getting their families; in many others it has been impracticable, as the distance was too great. In portions of the northern part of this district the colored people are kept in slavery still. The white people tell them that they were free during the war, but the war is now over, and they must go to work again as before. The reports from sub-commissioners nearest that locality show that the blacks are in a much worse state than ever before, the able-bodied being kept at work under the lash, and the young and infirm driven off to care for themselves. As to protection from the civil authorities, there is no such thing outside of this city.

The conviction, however, that slavery in the old form cannot be maintained has forced itself upon the minds of many of those who ardently desired its preservation. But while the necessity of a new system was recognized as far as the right of property in the individual negro is concerned, many attempts were made to introduce into that new system the element of physical compulsion, which… is so generally considered indispensable. This was done by simply adhering, as to the treatment of the laborers, as much as possible to the traditions of the old system, even where the relations between employers and laborers had been fixed by contract. The practice of corporal punishment was still continued to a great extent, although, perhaps, not in so regular a manner as it was practiced in times gone by.… The habit is so inveterate with a great many persons as to render, on the least provocation, the impulse to whip a negro almost irresistible. It will continue to be so until the Southern people will have learned, as never to forget it, that a black man has rights which a white man is bound to respect.

Here I will insert some remarks on the general treatment of the blacks as a class, from the whites as a class. It is not on the plantations and at the hands of the planters themselves that the negroes have to suffer the greatest hardships. Not only the former slaveholders, but the non-slaveholding whites, who, even previous to the war, seemed to be more ardent in their pro-slavery feelings than the planters themselves, are possessed by a singularly bitter and vindictive feeling against the colored race since the negro has ceased to be property. The pecuniary value which the individual negro formerly represented having disappeared, the maiming and killing of colored men seems to be looked upon by many as one of those venial offences which must be forgiven to the outraged feelings of a wronged and robbed people. Besides, the services rendered by the negro to the National cause during the war, which make him an object of special interest to the loyal people, make him an object of particular vindictiveness to those whose hearts were set upon the success of the rebellion. The number of murders and assaults perpetrated upon negroes is very great; we can form only an approximate estimate of what is going on in those parts of the South which are not closely garrisoned, and from which no regular reports are received, by what occurs under the very eyes of our military authorities. As to my personal experience, I will only mention that during my two days' sojourn at Atlanta one negro was stabbed with fatal effect on the street, and three were poisoned, one of whom died. While I was at Montgomery one negro was cut across the throat evidently with intent to kill, and another was shot, but both escaped with their lives.…

These statements are naturally not intended to apply to all the individuals composing the Southern people. There are certainly many planters who, before the rebellion, treated their slaves with kindness, and who now continue to treat them as free laborers in the same manner. There are now undoubtedly many plantations in the South on which the relations between employers and employees are based upon mutual good will. There are certainly many people there who entertain the best wishes for the welfare of the negro race, and who not only never participated in any acts of violence, but who heartily disapprove them. I have no doubt, a large majority can, as to actual participation--not, however, as to the bitter spirit--offer a good plea of not guilty. But however large or small a number of people may be guilty of complicity in such acts of persecution, those who are opposed to them have certainly not shown themselves strong enough to restrain those who perpetrate or favor them. So far, the spirit of persecution has shown itself so strong as to make the protection of the freedman by the military arm of the Government in many localities necessary--in almost all, desirable. It must not be forgotten that in a community a majority of whose members is peaceably disposed, but not willing or not able to enforce peace and order, a comparatively small number of bold and lawless men can determine the character of the whole. The rebellion itself, in some of the Southern States, furnished a striking illustration of this truth.…

Some of the planters with whom I had occasion to converse expressed their determination to adopt the course which best accords with the spirit of free labor, to make the negro work by offering him fair inducements, to simulate his ambition and to extend to him those means of intellectual and moral improvement which are best calculated to make him an intelligent, reliable and efficient free laborer and a good and useful citizen. Those who expressed such ideas were almost invariably professed Union men, and far above the average in point of mental ability and culture. I found a very few instances of original secessionists also manifesting a willingness to give the free-labor experiment a fair trial. I can represent the sentiments of this small class in no better way than by quoting the language used by an Alabama judge in a conversation with me.

I am one of the most thoroughly whipped men in the South…; I am a genuine old secessionist, and I believe now, as I always did, we had a Constitutional right to secede. But the war has settled that matter, and it is all over now. As to this thing of free negro labor, I do not believe in it, but I will give it a fair trial. I have a plantation and am going to make contracts with my hands, and then I want a real Yankee to run the machine for me; not one of your New Yorkers or Pennsylvanians, but the genuine article from Massachusetts or Vermont--one who can not only farm, but sing psalms and pray and teach school--a real abolitionist, who believes in the thing just as I don't believe in it. If he does not succeed, I shall consider it proof conclusive that you are wrong and I am right.

I regret to say that views and intentions so reasonable I found confined to a small minority. Aside from the assumption that the negro will not work without physical compulsion, there appears to be another popular notion prevalent in the South, which stands as no less serious an obstacle in the way of a successful solution of the problem. It is that the negro exists for the special object of raising cotton, rice and sugar for the whites, and that it is illegitimate for him to indulge, like other people, in the pursuit of his own happiness in his own way. Although it is admitted that he has ceased to be the property of a master, it is not admitted that he has a right to become his own master. As Colonel Thomas, assistant-commissioner of the Freedmen's Bureau in Mississippi,… very pungently expresses it:

The whites esteem the blacks their property by natural right, and, however much they may admit that the relations of masters and slaves have been destroyed by the war and by the President's emancipation proclamation, they still have an ingrained feeling that the blacks at large belong to the whites at large, and whenever opportunity serves they treat the colored people just as their profit, caprice or passion may dictate.

An ingrained feeling like this is apt to bring forth that sort of class legislation which produces laws to govern one class with no other view than to benefit another.…

Immediately after the emancipation of the slaves, when the general confusion was most perplexing, the prevalent desire among the whites seemed to be, if they could not retain their negroes as slaves, to get rid of them entirely. Wild speculations were indulged in, how to remove the colored population at once and to import white laborers to fill its place, how to obtain a sufficient supply of coolies, etc., etc. Even at the present moment the removal the freedmen is strongly advocated by those who have the traditional horror of a free negro, and in some sections, especially where the soil is more adapted to the cultivation of cereals than the raising of the staples, planters appear to be inclined to drive the negroes away, at least from their plantations.… The disposition to drive away all the negroes from the plantations was undoubtedly confined to a few districts; and as far as the scheme of wholesale deportation is concerned, practical men became aware that, if they wanted to have any labor done, it would have been bad policy to move away the laborers they now have before others were there to fill their places. All these devices promising at best only distant relief, and free negro labor being the only thing in immediate prospect, many ingenious heads set about to solve the problem, how to make free labor compulsory by permanent regulations.

Shortly after the close of the war some South Carolina planters tried to solve this problem by introducing into the contracts provisions leaving only a small share of the crops to the freedmen, subject to all sorts of constructive charges, and then binding them to work off the indebtedness they might incur. It being to a great extent in the power of the employer to keep the laborer in debt to him, the employer might thus obtain a permanent hold upon the person of the laborer. It was something like the system of peonage existing in Mexico. When these contracts were submitted to the military authorities for ratification, General Hatch, commanding at Charleston, at once issued an order prohibiting such arrangements. I had an opportunity to examine one of these contracts, and found it drawn up with much care, and evidently with a knowledge of the full bearings of the provisions so inserted.

I had a conversation with Mr. W. King, of Georgia, a gentleman of good political sentiments and undoubtedly benevolent intentions. He recommends a kind of guardianship to be exercised by the employer over the freedman. He is a fair representative, not of the completely unprejudiced, but of the more liberal-minded class of planters, and his sayings show in what direction even those who are not actuated by any spirit of bitterness against the negro seek a way out of their perplexities.…

Mr. W. B. Stickney, agent of the Freedmen's Bureau at Shreveport, Louisiana, reported to the assistant-commissioner of the bureau in Louisiana as follows:

August 1.--The following is a literal copy of a document brought to this office by a colored man, which is conclusive evidence that there are those who still claim the negro as their property:

"This boy Calvin has permit to hire to whom he pleases, but I shall hold him as my property until set free by Congress. July 7, 1865. (Signed.) E. V. TULLY"

The spirit of the above also made its appearance in another form, in the action of the police board of the parish of Bossier, which was an attempt to revive at once the old slave laws, and to prevent the freedmen from obtaining employment (away) from their former masters. The gist of the enactment alluded to is contained in the paragraph directing the officers on patrol duty "to arrest and take up all idle and vagrant persons running at large without employment and carry them before the proper authorities, to be dealt with as the law directs." A regulation like this certainly would make it difficult for freedmen to leave their former masters for the purpose of seeking employment elsewhere. The matter was submitted to brevet Major-General Hawkins, commanding western district of Louisiana, who issued an order prohibiting the parish police forces from arresting freedmen unless for positive offence against the law.

Clearer and more significant was the ordinance passed by the police board of the town of Opelousas, Louisiana. It deserves careful perusal. Among a number of regulations applying exclusively to the negro, and depriving him of all liberty of locomotion, the following striking provisions are found:

Section 3. No negro or freedman shall be permitted to rent or keep a house within the limits of the town under any circumstances, and any one thus offending shall be ejected and compelled to find an employer or leave the town within twenty-four hours. The lessor or furnisher of the house leased or kept as above shall pay a fine of ten dollars

($120.30 in 2006 dollars)

for each offence.

Section 4. No negro or freedman shall reside within the limits of the town of Opelousas who is not in the regular service of some white person or former owner.…

Section 8. No freedman shall sell, barter or exchange any articles of merchandise or traffic within the limits of Opelousas without permission in writing from his employer or the mayor or president of the board.

This ordinance was at first approved by a lieutenant-colonel of the United States forces having local command there, and it is worthy of note that thereupon the infection spread at once, and similar ordinances were entertained by the police boards of the town of Franklin and of the parish of St. Landry. The parish ordinance of St. Landry differs from the town ordinances of Opelousas and Franklin in several points, and wherever there is any difference, it is in the direction of greater severity.…

… The negro is not only not permitted to be idle, but he is positively prohibited from working or carrying on a business for himself; he is compelled to be in the "regular service" of a white man, and if he has no employer he is compelled to find one. It requires only a simple understanding among the employers, and the negro is just as much bound to his employer on account of non-payment of wages or bad treatment he is compelled to find another one; and if no other will take him he will be compelled to return to him from whom he anted to escape. The employers, under such circumstances, are naturally at liberty to arrange the matter of compensation according to their tastes, for the negro will be compelled to be in the regular service of an employer, whether he receives wages or not. The negro may be permitted by his employer "to hire his own time," for in the spirit and intent of the ordinance his time never properly belongs to him. But even the old system of slavery was more liberal in this respect, for such "permission to hire his own time" shall never extend over seven days at any one time." (Section 4.)

The sections providing for the "summary" enforcement of the penalties and placing their infliction into the hands of the "chief of patrol"--which, by the way, throws some light upon the objects for which the militia is to be reorganized--place the freedmen under a sort of permanent martial law, while the provision investing every white man with the power and authority of a police officer as against every black man subjects them to the control even of those individuals who in other communities are thought hardly fit to control themselves.…

[Aside] from a small number of honorable exceptions, the popular prejudice is almost as bitterly set against the negro's having the advantage of education as it was when the negro was a slave.… Hundreds of times I heard the old assertion repeated, that "learning will spoil the nigger for work," and that "negro education will be the ruin of the South." Another most singular notion still holds a potent sway over the minds of the masses--it is, that the elevation of the blacks will be the degradation of the whites.… In a letter of General Kilby Smith occurs the following statement referring to the condition of things in Mobile, Alabama:

Threats were made to destroy all school-houses in which colored children were taught, and in two instances they were fired. The same threats were made against all churches in which colored people assembled to worship, and one of them burned. Continued threats of assassination were made against the colored preachers, and one of them is now under special guard by order of Major-General Woods.…

[Here are a number of complaints that white Southerners made about the newly freed slaves]

Unwillingness to work.--That there are among the negroes a good many constitutionally lazy individuals is certainly true. The propensity to idleness seems to be rather strongly developed in the South generally, without being confined to any particular race. It is also true that the alacrity negroes put into their work depends in a majority of cases upon certain combinations of circumstances.… In the reports of officers of the Freedmen's Bureau you will find frequent repetitions of the statement that the negro generally works well where he is decently treated and well compensated.… The sudden leap from slavery to freedom is an exciting event in a man's life, and somewhat calculated to disturb his equanimity for a moment.… It would have shown much more wisdom in the negroes if all of them had quietly gone to work again the next day. But it is not reasonable to expect the negroes to possess more wisdom than other races would exhibit under the same circumstances. Besides, the willingness to work depends, with whites as well as blacks, somewhat upon the nature of the inducements held out, and the unsatisfactory regulation of the matter of wages has certainly something to do with the instability of negro labor which is complained of. Northern men engaged in planting almost uniformly pay wages in money, while Southern planters, almost uniformly, have contracted with their laborers for a share in the crop.… [As] a general rule,… whenever [freed slaves] are at liberty to choose between wages in money and a share in the crop, they will choose the former and work better.…

Vagrancy.--Large numbers of colored people left the plantations as soon as they became aware that they could do with impunity. That they could so leave their former masters was for them the first test of the reality of their freedom. A great many flocked to the military posts and towns to obtain from the "Yankees" reliable information as to their new rights. Others were afraid lest by staying on the plantations where they had been held as slaves they might again endanger their freedom. Still others went to the cities, thinking that there the sweets of liberty could best be enjoyed. In some places they crowded together in large numbers, causing serious inconvenience. But a great many, probably a very large majority, remained on the plantations and made contracts with their former masters. The military authorities, and especially the agents of the Freedmen's Bureau, succeeded by continued exertions in returning most of those who were adrift to the plantations, or in finding other employment for them. After the first rush was over the number of vagrants grew visibly less. It may be said that where the Freedmen's Bureau is best organized there is least vagrancy among the negroes.… The statistics of the Freedmen's Bureau show that the whole number of colored people supported by the Government since the close of the war was remarkably small and continually decreasing. This seems to show that the Southern negro, when thrown out of his accustomed employment, possesses considerable ability to support himself. It is possible, however, that in consequence of short crops, the destitution of the country and other disturbing influences, there may be more restlessness among the negroes next winter than there is at present. Where the results of this year's labor were very unsatisfactory, there will be a floating about of the population when the contracts of this year expire. It is to be expected, however, that the Freedmen's Bureau will be able to remedy evils of that kind. Other emancipatory movements, for instance the abolition of serfdom in Russia, have resulted in little or no vagrancy; but it must not be forgotten that the emancipated serfs were speedily endowed with the ownership of land, which gave them a permanent moral and material interest in the soil upon which they lived. A similar measure would do more to stop negro vagrancy in the South than the severest penal laws.…

Contracts.--Freedmen frequently show great disinclination to make contracts with their former masters. They are afraid lest in signing a paper they sign away their freedom, and in this respect they are distrustful of most Southern men. It generally requires personal assurances from a United States officer to make them feel safe. But the advice of such an officer is almost uniformly followed.… The complaints of Southern men that the contracts are not well observed by the freedmen are in many instances well founded. The same can be said of the complaints of freedmen with regard to the planters. The negro, fresh from slavery, has naturally but a crude idea of the binding force of a written agreement, and is galling to many of the planters to stand in such relations as a contract establishes to those who formerly were their slaves. I was, however, informed by officers of the Freedmen's Bureau, and by planters also, that things were improving in that respect. Contracts will be more readily entered into and more strictly kept as soon as the intimate relations between labor and compensation are better understood and appreciated on both sides.

Insolence and insubordination.--The new spirit which emancipation has awakened in the colored people has undoubtedly developed itself in some individuals, especially young men, to an offensive degree. Hence cases of insolence on the part of freedmen occur. But such occurrences are comparatively rare. On the whole, the conduct of the colored people is far more submissive than anybody had a right to expect. The acts of violence perpetrated by freedmen against white persons do not stand in any proportion to those committed by whites against negroes. Every such occurrence is sure to be noticed in the Southern papers, and we have heard of but very few. When Southern people speak of the insolence of the negro, they generally mean something which persons who never lived under the system of slavery are not apt to appreciate. It is but very rarely what would be called insolence among equals. But, as an old planter said to me, "our people cannot realize yet that the negro is free." A negro is called insolent whenever his conduct varies in any manner from what a Southern man was accustomed to when slavery existed.

The complaints made about the insubordination of the negro laborers on plantations have to be taken with the same allowance. There have been, no doubt, many cases in which freedmen showed a refractory spirit, where orders were disobeyed, and instructions disregarded. there have been some instances of positive resistance. But when inquiring into particulars, I found not unfrequently that the employer had adhered too strictly to his old way of doing things. I hardly heard any such complaints from Northern [planters]. I have heard [Southern] planters complain very earnestly of the insubordinate spirit of their colored laborers because they remonstrated against the practice of corporal punishment. This was looked upon as a symptom of an impending insurrection. A great many things are regarded in the old slave States as acts of insubordination on the part of the laborer which, in the free States, would be taken as perfectly natural and harmless. The fact is, a good many planters are at present more nervously jealous of their authority than before, while the freedmen are not always inclined to forget that they are free men.

Extravagant notions.--In many localities I found an impression prevailing among the negroes that some great change was going to take place about Christmas. Feeling uneasy in their present condition, they indulged in the expectation that Government intended to make some further provision for their future welfare, especially by ordering distributions of land among them. To counteract this expectation, which had a tendency to interfere seriously with the making of contracts for the next season, it was considered necessary to send military officers, and especially agents of the Freedmen's Bureau, among them, who, by administering sound advice and spreading correct information, would induce them to suit their conduct to their actual circumstances.… Impressions like the above are very apt to spread among the negroes, for the reason that they ardently desire to become freeholders. In the independent possession of landed property they see the consummation of their deliverance. However mistaken their notions may be in other respects, it must be admitted that this instinct is correct.

Relations between the two races.--There are whites in the South who profess great kindness for the negro. Many of them are, no doubt, sincere in what they say. But as to the feelings of the masses, it is hardly necessary to add anything to what I have already stated.… The negro is constitutionally docile and eminently good-natured. Instances of the most touching attachment of freedmen to their old masters and mistresses have come to my notice. To a white man whom they believe to be sincerely their friend they cling with greater affection than even to one of their own race. By some Northern speculators their confidence has been sadly abused. Nevertheless, the trust they place in persons coming from the North, or in any way connected with the Government, is childlike and unbounded. There may be individual exceptions, but I am sure they are not numerous. Those who enjoy their confidence enjoy also their affection. Centuries of slavery have not been sufficient to make them enemies of the white race. If in the future a feeling of mutual hostility should develop itself between the races, it will probably not be the fault of those who have shown such an inexhaustible patience under the most adverse and trying circumstances.

In some places that I visited I found apprehensions entertained by whites of impending negro insurrections. Whenever our military commanders found it expedient to subject the statements made to that effect by whites to close investigation, they uniformly found them unwarranted by fact. In many instances there were just reasons for supposing that such apprehensions were industriously spread for the purpose of serving as an excuse for further persecution.… The negro is easily led; he is always inclined to follow the advice of those he trusts. I do, therefore, not consider a negro insurrection probable as long as the freedmen are under the direct protection of the Government and may hope to see their grievances redressed without resorting to the extreme means of self-protection. There would, perhaps, be danger of insurrections if the Government should withdraw its protection from them, and if, against an attempt on the part of the whites to reduce them to something like their former condition, they should find themselves thrown back upon their own resources.…

Education.--That the negroes should have come out of slavery as an ignorant class is not surprising when we consider that it was a penal offence to teach them while they were in slavery; but their eager desire to learn and the alacrity and success with which they avail themselves of every facility offered to them in that respect, has become a matter of notoriety. The statistics of the Freedmen's Bureau show to what extent such facilities have been offered and what results have been attained. As far as my information goes, these results are most encouraging for the future.…

…

As long as a majority of the Southern people believe that "the negro will not work without physical compulsion," and that "the blacks at large belong to the whites at large," that belief will tend to produce a system of coercion, the enforcement of which will be aided by the hostile feeling against the negro now prevailing among the whites, and by the general spirit of violence which in the South was fostered by the influence slavery exercised upon the popular character. It is, indeed, not probable that a general attempt will be made to restore slavery in its old form, on account of the barriers which such an attempt would find in its way; but there are systems intermediate between slavery as it formerly existed in the South, and free labor as it exists in the North, but more nearly related to the former than to the latter, the introduction of which will be attempted.…

The current sentiment is expressed in the language of a candidate for a seat in the State convention of Mississippi. It is a card addressed to the voters of Wilkinson county, Mississippi by Gen. W. L. Brandon. The General complains of having been called "an unconditional, immediate emancipationist--an abolitionist." He indignantly repels the charge and avows himself a good pro-slavery man.

But, fellow-citizens [says he], what I may in common with you have to submit to, is a very different thing. Slavery has been taken from us; the power that has already practically abolished it threatens totally and forever to abolish it. But does it follow that I am in favor of this thing? By no means. My honest conviction is, we must accept the situation as it is, until we can get control once more of our own state affairs. We cannot do otherwise and get our place again in the Union, and occupy a position and exert an influence that will protect us against greater evils which threaten us. I must, as any other man who votes or holds an office, submit for the time to evils I cannot remedy.

General Brandon was elected on that platform, and in the convention voted for the ordinance abolishing slavery, and imposing upon the legislature the duty to pass laws for the protection of the freedmen. And General Brandon is certainly looked upon in Mississippi as an honorable man, and an honest politician. What he will vote for when his people have got once more control of their own State affairs, and his State has regained its position and influence in the Union, it is needless to ask.…

A more tangible evidence of good intentions would seem to have been furnished by the admission of negro testimony in the courts of justice, which has been conceded in some of the Southern States, at least in point of form. This being a matter of vital interest to the colored man, I inquired into the feelings of people concerning it with particular care. At first I found hardly any Southern man that favored it. Even persons of some liberality of mind saw seemingly insurmountable objections. The appearance of a general order issued by General Swayne in Alabama, which made it optional for the civil authorities either to admit negro testimony in the State courts or to have all cases in which colored people were concerned tired by officers of the bureau or military commissions, seemed to be the signal for a change of position on the part of the politicians. A great many of them, seeing a chance for getting rid of the jurisdiction of the Freedmen's Bureau, dropped their opposition somewhat suddenly and endeavored to make the admission of negro testimony in the State courts palatable to the masses by assuring them that at all events it would rest with the judges and juries to determine in each case before them whether the testimony of negro witnesses was worth anything or not.… I may state that even by prominent Southern men, who were anxious to have the jurisdiction of the State courts extended over the freedmen, the admission was made to me that the testimony of a negro would have but little weight with a Southern jury. I frequently asked the question, "Do you think a jury of your people would be apt to find a planter who has whipped one of his negro laborers guilty of assault and battery?" The answer almost invariably was, "You must make some allowance for the prejudices of the people."

It is probable that the laws excluding negro testimony from the courts will be repealed in all the States lately in rebellion if it is believed that a satisfactory arrangement of this matter may in any way facilitate the "readmission" of the States, but I apprehend such arrangements will hardly be sufficient to secure to the colored man impartial justice as long as the feelings of the whites are against him and they think that his rights are less entitled to respect than their own. More potent certainly than the laws of the country are the opinions of right and wrong entertained by its people. When the spirit of a law is in conflict with such opinions, there is but little prospect of its being faithfully put in execution, especially where those who hold such opinions are the same who have to administer the laws.… Nine-tenths of the intelligent men with whom I had any conversation upon [the subject of the pending emancipatory Thirteenth Amendment] expressed their willingness to ratify the first section, abolishing slavery throughout the United States, but not the second section, empowering Congress "to enforce the foregoing by appropriate legislation."… Nevertheless, I deem it probable that the "Constitutional amendment" will be ratified by every State legislature, provided the Government insists upon such ratification as a conditio sine qua non of readmission. It is instructive to observe how powerful and immediate an effect the announcement of such a condition by the Government produces in Southern conventions and legislatures. It would be idle to assume, however, that a telegraphic despatch, while it may beat down all parliamentary opposition to this or that measure, will at the same time obliterate the prejudices of the people; nor will it prevent those prejudices from making themselves seriously felt in the future. It will require measures of a more practical character to prevent the dangers which, as everybody that reads the signs of the times must see, are now impending.
President Johnson ignored this report. The Joint Committee on Reconstruction also held extensive public hearings on the mistreatment of blacks, which the President also disregarded. So radical Republicans in Congress determined to take Reconstruction out of his hands.

The emancipatory Thirteenth Amendment was ratified by 27 states, including 8 former Confederate states.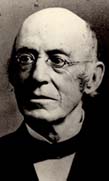 William Lloyd Garrison, 60, pictured here, published the last issue of the abolitionist organ Liberator and declared
My vocation as an abolitionist is ended.
Apparently satisfied with the amended Constitution, he was paying little attention to what was actually going on with the newly "freed" slaves.

When Congressional delegations newly elected to the House of Representatives and the Senate from the newly reconstituted Southern states, delegations that included many former rebel leaders, "whitewashed rebels"--four former Confederate generals, five colonels, Confederate Vice President Stephens (still in a federal prison and under indictment for treason), and several dozen members of the Richmond cabinet and Congress among them--presented themselves in Washington, DC (obviously Stephens himself couldn't have presented himself), Republicans in the 39th Congress were outraged.

For one thing, virtually everyone in the delegation was a Democrat: Might not they align themselves with Northern Democrats to overturn legislation lovingly passed during the war by the Republicans, including the Morrill Tariff (it would be lowered), the Pacific Railroad Act (the transcontinental railroad might be rerouted through the South), and the free-farm Homestead Act (it might be repealed)? Might not those Black Codes be perpetuated? Might not the national debt be repudiated? Indeed, the Democrats might even win the White House--especially since a needed reapportionment in the Southern states to take into account how each black, albeit still disfranchised, would now be 5/5 of a person instead of the antebellum 3/5 would thereby make that Southern white Democratic delegation even larger.

As Congressman Thaddeus Stevens put it, the Southern states
ought never to be recognized as valid states, until the Constitution shall have been so amended… as to secure perpetual ascendancy [to the Republican Party].
The amendment he had in mind was to grant suffrage to the blacks, who he envisioned would be permanently allied to the Republicans.

On December 4, the first day of the Congressional session, the newly elected Southerners were refused seats. On the other hand, just two days later, President Johnson announced that all the recently rebellious states had satisfied his conditions and that the Union was now fully restored. The President and Congress were on a collision course.

Dangerously defiant Southerners cursed the "damnyankees" and referred to the federal government as "your government." Persisting in their conviction that their view of secession had been the correct one and that the "lost cause" had been a just war, they admitted of no crime in their rebellion. Here were the words to a popular song:
Oh, I'm a good old rebel,
Now that's just what I am:
For the "fair land of freedom"
I do not care a dam.
I'm glad I fit against it--
I only wish we'd won,
And I don't want no pardon
For anything I done.
One Southern bishop refused to pray for President Johnson, even though his policies were friendly to the former rebels. One white North Carolinian who had lost his home, his sons, and his slaves in the war had this to say about the Yankees(32):
---
From "Transwiki," op. cit. (Close)
---
They've left me one inestimable privilege--to hate 'em. I git up at half-past four in the morning, and sit up till twelve at night, to hate 'em.
Confederate veterans in Pulaski, TN, established the Ku Klux Klan, a secret social club dedicated to recapture the comradeship and excitement of the war. At first it was simply a social club using practical jokes and innocuous hazing rituals, but as it spread through the Southern states, it adopted its curious uniform, began to terrorize superstitious blacks, and broke up Reconstruction efforts in attempts to return the South to white, Democratic Party control.
White Southerners were not the only ones with ugly racist notions. Historian Leon Litwack commented on the racist attitudes of many Yankee soldiers(33):
---
The statements here about the attitudes of Union soldiers toward blacks are excerpted from Taylor, op. cit., citing Litwack, Leon, Been in the Storm So Long: The Aftermath of Slavery (New York, 1979) pp. 127-128, taken from http://faculty.washington.edu/qtaylor/Courses/101_USH/101_manual_4.htm, accessed 31 January 2007). (Close)
---
To debauch black women, some Yankee [soldiers] apparently concluded, was to partake of a widely practiced and well-accepted southern pastime. The evidence was to be seen everywhere. Besides, Yankees tended to share the popular racist notion of black women as naturally promiscuous and dissolute.… The frequency with which common soldiers mixed with black women prompted some regimental commanders to order the ejection of such women from the camp because their presence had become "demoralizing."… Marriages between Yankees and blacks were rare, but when they did occur southern whites made the most of them.… Not surprisingly, Union soldiers often shared the outrage of local whites at such liaisons. In November 1865, a black newspaper in Charleston reported that an Illinois soldier had been tarred and feathered by his own comrades for having married a black woman. "He was probably a Southern man by birth and education," the newspaper said of the victim,

and Hoosiers and Suckers don't take readily to Southern habits.
Most Yankees adhered to the Southern racist belief that blacks were basically inferior. In fact, few Northern blacks possessed rights that the double-standard Republicans were insisting be granted to Southern blacks. Over the following 3 years, state legislatures in Wisconsin, Minnesota, Connecticut, Nebraska, New Jersey, Ohio, Michigan, and Pennsylvania would reject bills granting the franchise to blacks.
---
Constantino Brumidi finished a fresco in the rotunda of the U.S. Capitol.
The University of Maine was founded in Orono.
Massachusetts Institute of Technology (MIT) opened with 15 students.
Architects Gridley J. Fox Bryan and Arthur Gilman completed Boston City Hall.
Boston financiers Henry P. Kidder, Howard Peabody, 33, and Oliver W. Peabody took over the banking house John E. Thayer and Brother, renaming their operation Kidder, Peabody & Company and affiliating it with Baring Brothers & Co., Ltd., of London.
Shelburne Falls, MA, inventor Linus Yale, 44, who had been marketing cylinder locks for banks, patented his improved cylinder "Yale Lock" for the doors of houses and business establishments.
Worcester Polytechnic Institute was founded in Worcester, MA.
Vermont-born machinist Francis Asbury Pratt, 38, who had initiated a system for making interchangeable parts for Civil War rifles, joined with Amos Whitney in founding the Pratt & Whitney Company in Hartford, CT.
Yale University opened the first Department of Fine Arts in the United States.
The Bridgeport Brass Company was founded in Bridgeport, CT.
The 43-year-old City Bank in New York City obtained a federal charter and became National City Bank.
Irish immigrant William Russell Grace, 33, founded W. R. Grace & Co. in New York City to engage in South American trade.
The first fire department with paid firefighters opened in New York City.
Textile merchants Seth M. Milliken, 29, and William Deering, 39, from Portland, ME, founded Deering, Milliken & Co. in New York City.
Benjamin Altman, 25, opened the B. Altman dry-goods store in New York City.
German immigrant pianomaker Henry Engelhard Steinweg, 68, changed the spelling of his name to "Steinway" and the name of his 12-year-old New York City piano factory to "Steinway & Sons."
Actor-clown-comedian-balladier Antonio Pastor, 28 (who would become known as the "father of American vaudeville"), opened the Tony Pastor's Opera House, a variety theater, in New York City, featuring entertainment for men only.
A Sanitary and Social Chart of the Fourth Ward in New York City reported finding smallpox and typhus in the appallingly overcrowded 30 blocks south of Chatham Square. The report noted that one particular privy was being shared by 78 people.
Irish immigrant journalist Edwin Lawrence Godkin, 34, began publishing The Nation in New York City, which would become the most influential liberal and highly intellectual weekly journal, read by publicists, professors, and preachers. Godkin crusaded mercilessly for reform in the civil service and for honesty in government.
There were 91 baseball clubs in the 8-year-old National Association of Baseball Players, which held its first convention in New York City. This was the beginning of professional baseball.
New York State Senator Andrew Jackson White, 32, persuaded Western Union's Ezra Cornell, 58, to provide working capital to make use of the 3-year-old Morill Act to found a new college, Cornell University in Ithaca, NY.
Hammondsport, NY, clergyman William Bostwick, who had been growing Catawba grapes and producing New York State champagne for the preceding 5 years at his Pleasant Valley Wine Company, introduced Great Western Champagne.
German immigrant baker Augustus Gutkind (who had changed his name to "Goodman" and worked as a master baker for the Union Army) introduced Goodman's matzohs in his Philadelphia bakery.
Bookbinder's Restaurant opened in Philadelphia.
Philadelphia hatmaker John Batterson Stetson, 35, created the high-crowned "10-gallon hat" named for him--the Stetson "Boss of the Plains," a modified Mexican sombrero with a 4-inch crown, a 4-inch brim that can carry 10 "galions" (ribbons) and a leather strap hatband, selling for $5 ($60.15 in 2006 dollars). He sold a hat made from better materials for $10 and one made from pure beaver or nutria felt for $30 ($120.30 and $360.90, respectively).
Lehigh University was founded in Bethlehem, PA.
Scots immigrant Andrew Carnegie, 29, who had become rich in the express business, now entered the steel business in the Pittsburgh area with former blacksmith Andrew Klopman.
The increase in U.S. literacy was spurring a demand for more lighting.(34)
---
Distilled from Trager, James, ed., The People's Chronology: A Year-by-Year Record of Human Events from Prehistory to the Present, New York: Holt, Rinehart and Winston, 1979, p. 490; and from Garraty, op. cit., pp. 505-6. (Close)
---
The petroleum derivative kerosene was now replacing both whale oil and lard oil in lamps (the whale-oil lamps were simply discarded, or they were retrofitted for kerosene burning); the kerosene lamps were noted for their smoky, torchlike light. The discovery of petroleum gushers in western Pennsylvania 6 years earlier had led to a rush of "Fifty-Niners" to that area, giving rise to a new industry, with its "petroleum plutocracy" of "coal oil Johnnies." Hundreds of tiny kerosene refineries had been springing up in Pennsylvania, reminiscent of ramshackle hillbilly moonshiner stills, where small-scale entrepreneurs heated crude petroleum oil in large kettles, boiling off the volatile elements, condensing the kerosene in water-cooled coils, and discarding the heavier petroleum tars.

The year-old oil well at Pithole Creek in Pennsylvania, which had been discovered by a "finder" using a divining rod, was pumping 250 barrels of oil per day by the beginning of the year; by June there were four wells in Pithole pumping a total of more than 2,000 barrels a day, a third of all the oil produced in Pennsylvania. Some 3,000 teamsters were driving wagonloads of barrels to the riverboats and to the railhead.

Samuel Van Syckel installed a 5-mile-long wrought-iron oil pipeline near Titusville, PA.

Kerosene was no longer the only valuable petroleum product. By now refiners were learning how to "crack" petroleum
by applying high temperatures to the crude in order to break up and rearrange its molecular structure, thus increasing the percentage of kerosene yielded. By-products such as naphtha, gasoline (used in vaporized form as an illuminating gas), rhigolene (a local anesthetic), cymogene (a coolant for refrigerating machines), and many lubricants and waxes began to appear on the market.(35)

---

Quoted from Garraty, op. cit., p. 506. (Close)

---
John Davison Rockefeller, 25, sold his share in his produce (and whiskey) business to his partner Maurice B. Clark and paid Clark $72,500 ($872,000 in 2006 dollars) for Clark's interest in the 2-year-old Cleveland, OH, oil refinery of Samuel Andrews. Rockefeller went into partnership with Andrews, establishing Rockefeller & Andrews, grossing by year's end $1.2 million after boosting the capacity of the refinery to 505 barrels per day, twice the amount of any other in the area.
Austrian stillmaster Charles Fleischmann, 31, visited Cincinnati to attend his sister's wedding and remarked that poor yeast was responsible for the poor quality of bread in the U.S.: Northern bakers were using salt to raise bread, and Southern bakers preferred soda; what little yeast bakers were using was the "slop" yeast from potato water or the frothy "barm" from ale vats.
An Ohio and Mississippi passenger train bound from Cincinnati to St. Louis was derailed in May by objects placed on the tracks near North Bend, OH; armed holdup bandits swarmed through the cars, robbing passengers of money and valuables.
The 1,700-ton St. Louis-to-New Orleans sidewheeler river steam packet Sultana exploded and sank at Memphis, TN, killing some 1,600 out of the 2,300 aboard.
Fisk University was founded in Nashville, TN.
The University of Kentucky was founded in Lexington.
A Fort Wayne, IN, pharmacist mixed baking soda with cream of tartar to produce baking powder.
The Union Stock Yards opened in Chicago on a 345-acre tract of reclaimed swampland, built for $1.5 million ($18 million in 2006 dollars) and capable of holding 10,000 head of cattle and 100,000 hogs at any given time. (With the Mississippi River traffic interrupted by the Civil War, Chicago had replaced Cincinnati, Louisville, and St. Louis as the nation's meat-packing center.)
The Crosby Opera House opened in Chicago.
Bearded and rotund Chicago preacher Dwight Lyman Moody, 28, weighing nearly 300 pounds, a former shoe salesman and now the city missionary for the Young Men's Christian Association (YMCA), operated the largest Sunday School in the city as well as the Illinois Street Church, also known as the Moody Church, with a seating capacity of 1,500. He held huge audiences spellbound.
Trading in wheat futures began at the Chicago Board of Trade, which moved to the Chamber of Commerce Building at LaSalle and Washington Streets.
Marshall Field, 31, who had for the preceding 4 years been general manager of the Chicago dry-goods firm of Cooley, Wadsworth & Co., learned that competitor Potter Palmer planned to retire from active work in his 13-year-old dry-goods store and persuaded Palmer to sell him an interest. Levi Leiter of Cooley, Wadsworth joined in the new partnership of a $600,000 firm ($7.2 million in 2006 dollars) under the name of Field, Palmer, and Leiter (Field holding a $260,000 interest [$3.1 million]).
George Mortimer Pullman, 34, completed his Pioneer, the first true sleeping car with convertible booths, which he had patented the previous year.
German immigrant brewer Theodore Hamm, 40, opened a brewery in St. Paul, MN, and introduced Hamm's Beer.
French immigrant milling engineer Edmund LeCroix built a flour mill for Alexander Faribault at Northfield, MN, adapting a French machine to develop a "middlings" (farina) purifier that improved the yield of bran-free endosperm wheat particles.
German immigrant brewer Adolphus Busch, 36, and his father-in-law, Eberhard Anheuser, founded their Bavarian Brewery in St. Louis.
The railroad that would eventually be known as the Missouri-Kansas-Texas Railroad (the "Katy") was established, with plans to extend from St. Louis through Missouri to Kansas City and then on to San Antonio, Houston, and Galveston.
The Pacific Railway Act, passed by Congress 3 years earlier, authorized the Union Pacific Railroad to construct a line from Omaha, Nebraska Territory, in order to meet the Central Pacific line, which had been building eastward from California for the past 4 years.
As an incentive to the private railroad companies (who otherwise might not hazard huge sums needed to lay tracks across hundreds of miles of rugged, empty country, tracks whose traffic would not yield profits for years), the government granted large swaths of public land. For each mile of track constructed, Union Pacific was granted 20 square miles, alternating in 640-acre sections on either side of the track. All told, Congress granted up to 100 million acres of right of way to Union Pacific, Central Pacific, and other transcontinental projects. (In the end, Congress would be awarding more than half again that much land, and the Western states themselves would be contributing 49 million acres more, making the total area larger than Texas.) The land was granted in broad belts along the proposed routes, within which the companies were allowed to choose the best location for the tracks; until they chose--and even long after--all the land within the belts was unavailable for settlement, remaining unavailable for another 22 years.
The builders of the Union Pacific and Central Pacific received generous federal loans as well; they were guaranteed $16,000 for each mile of track laid on the prairie plains, $32,000 for each mile laid through intermountain stretches, and $48,000 for each mile laid through the mountains ($192,000, $385,000, and $577,000, respectively, in 2006 dollars). Union Pacific was authorized to take the timber, stone, and other material needed from the public-land right of way it had been granted.
Actual construction had been proceeding slowly during the war years. Ground had been broken only 2 years earlier at Omaha, and now the line extended westward to Kansas City, MO. Now with the war over, the so-called "ground-hog" Union Pacific promoters let out all the stops to reap the juicy loans and land grants.
The directors of the 4-year-old Central Pacific Railroad who were known as the "Big Four"--portly Leland Stanford, 41, president; Collis Potter Huntington, 44, vice president; Mark Hopkins, 52, an officer; and Charles Crocker, 43, director of construction--were chartered with the same princely federal subsidies to build their portion of the proposed transcontinental rail link eastward from Sacramento, CA. Crocker had contracted the Chinese Six Companies to recruit workers at $35 per head ($421 per head in 2006 dollars) from California and from the disintegrating Chinese Empire, getting 90 percent of the 10,000 workers from China. The laborers for this dangerous, backbreaking work, sweating through all the daylight hours under their basket hats, were efficient, cheap, and expendable. Laying track through the formidable Sierra Nevada was a great challenge; sometimes the workers could tunnel through only inches of the solid rock per day. Premature explosions and other mishaps took hundreds of Chinese lives. But the relentless, driving superintendent Crocker pushed the Chinese workers right through the winter months; the Big Four were anxious to get through the rough Sierras as quickly as possible so that they could meet the Union Pacific crews as far east as possible, thereby obtaining as large a share of the federal subsidies as possible. Crocker forced the workers to build snow sheds to keep the tracks clear. The workers labored in tunnels bored through 40-foot snowdrifts to get at the frozen ground. At the Summit Tunnel, Crocker ordered a shaft cut down from above so that the crews could work out from the middle as well as from each end. Experts later estimated that the prodigious costs of all this effort could have been reduced by as much as 70% had speed been not such an important factor. Also, because of the wasteful greed and speed to get the federal subsidy, the Central Pacific was ill-constructed over grades too steep and curves too sharp, as well as burdened with debt too heavy.
Thousands of Chinese immigrants were fleeing the disintegrating Chinese Empire, risking the penalty of beheading to do so, almost all from the southern district of Toishan, and coming to the United States. Most were men (the ratio was 13 males for each female). Some came with money pooled by their families back home, but most were desperately poor and in debt to Chinese middlemen, such as the Chinese Six Companies, which they would need to repay in cruel conditions of indenture for years. The indenture business was known ignominiously as "pig selling." Chinatowns were springing up in railroad towns, farming villages, and cities, where the immigrants could speak their own language and seek safety from prejudice and violence. Many organized themselves into tongs (secret societies).
The mountains, plateaus, deserts, and plains of the "Great West"--a rough square about 1,000 miles on a side, the vast area west of a wavering imaginary line running north from central Texas to the Canadian border (approximately longitude 100° W), on the one hand, and east of the Cascade and Sierra Nevada ranges near the Pacific Coast, on the other hand--was, at the conclusion of the Civil War, largely devoid of white settlement; the few exceptions were the mining towns in Colorado and Nevada, the Mormon communities in Utah (Deseret) Territory, scattered Hispanic settlements in the Southwest, and occasional gold camps and trading posts. The Great West was the habitat of the coyote, the prairie dog, the wild horse, the buffalo (some 15 million of them), and about 350,000 Indians (Native Americans). Mail coaches of the Overland Stage Line required at least 5 days to carry passengers and mails from the Missouri River to Denver. Silver ore extracted in Nevada had to be freighted by wagon to San Francisco, to be further freighted around Cape Horn to the ports on the East Coast and to the United Kingdom. For the next two and a half decades, the acquisitive civilization of white pioneer settlers closed in on this area from both sides, trampling over the hunting grounds--the food supply--of the traditional culture of the native inhabitants.
Several million long-horned cattle (with horn spreads reaching 8 feet) were munching grass on the Texas plains; with no way to get their meat to markets in the east, locals harvested the beasts mainly for their hides.
The 3-year-old Homestead Act, designed to stimulate the family farm and to encourage a rapid population growth in the West, authorized any U.S. citizen, or any alien intending to become a citizen, to take 160 acres of Western land (a quarter section) for just a $10 registration fee ($120.30 in 2006 dollars), provided that he make certain improvements and that he live on the tract for 5 years. Alternatively, the settler might acquire land after only 6 months of residence for a nominal price of $1.25 per acre ($15.04 per acre in 2006 dollars). Either way, the land acquired was to be exempt from attachment for debt. Tens of thousands of settlers applied for homesteads each year, a third of them actually receiving land. This act, along with the war-inflated farm prices and exemption from military service for foreigners, augmented immigration.
The Colorado militia crushed the Cheyenne and Arapaho Indians, who had been on the warpath.
Christopher "Kit" Carson, 56, ruled despotically over the Bosque Redondo concentration camp at Fort Sumner in New Mexico Territory, where thousands of Navajo and Mescalero Apache tribespeople were being detained. Some 1,200 escaped during this year.
Chiracahua Apache Chief Cochise, 53, continued to lead his warriors out of his hideout in the Dragoon Mountains of Arizona in raids against white settlers.
Congress established the Colorado River Indian Reservation, ultimately containing 264,250 acres--85 percent of it in Yuma County of Arizona Territory and the rest in California's San Bernadino and Riverside Counties--of desert land with an average high of 112°F in the summer and an average low of 39°F in the winter.
Mining engineer James Graham Fair, 33, was named superintendent of the Ophir Mine in Nevada.
The Southern Pacific Railroad was organized, with plans to link San Francisco with San Diego.
Michel Harry de Young, 16, and his brother Charles de Young, 18, began publishing the free theater program sheet San Francisco Dramatic Chronicle.
The San Francisco Examiner began publication.
James K. Armby founded a food brokerage firm in Oakland, CA.
Most white residents of Oregon had racist attitudes. An editorial in the Oregon Statesman, excerpted here, predicted that giving the vote to blacks would result in a "war of the races"(36):
---
Quoted in Taylor, op. cit., citing McLagan, Elizabeth, A Peculiar Paradise: A History of Blacks in Oregon, 1788-1940 (Portland, 1980), pp. 68-74, taken from http://faculty.washington.edu/qtaylor/Courses/101_USH/101_manual_4.htm, accessed 31 January 2007. (Close)
---
If we make the African a citizen, we cannot deny the same right to the Indian or the Mongolian (the Chinese, Japanese and other Asians). Then how long would we have peace and prosperity when four races separate, distinct and antagonistic should be at the polls and contend for the control of government?

Men were now cutting their hair shorter, with parts extending from the front all the way back to the nape of the neck. Some men wore pompadours. Muttonchops and beards under the chin were in vogue. Many men were wearing "sideburns" in imitation of (and named for) Union General Burnside, pictured here. Women frequently wore a bun or chignon, arranged in loops and braids, with puffs, ringlets, or coils over the ears.
Americans now bathed an average of once a week.
---
Science and technology in America: Specifics
Inventor-balloonist Thaddeus Sobieski Coulincourt Lowe, 33, devised a compression machine to produce artificial ice; George Westinghouse, 19, invented a device for rerailing a derailed railroad car; Philadelphia inventor William A. Bullock devised an improved rotary press, drawing on a continuous roll of paper and cutting the sheets before they were printed; Swedish-born zoologist Alexander Agassiz published Embryology of the Starfish; and New York engineer Alexander Holley, 33, who had purchased the American rights to the Bessemer steelmaking process 2 years earlier, now began to produce Bessemer steel.
---
Arts and culture in America: Specifics
Painter Winslow Homer, 29, unveiled Prisoners from the Front; dramatist David Belasco, 12, produced Jim Black, or The Regulator's Revenge; Anglo-Irish immigrant dramatist Dion Boucicault (né Dionysius Lardner Boursquot), 44, produced Rip Van Winkle (Joseph Jefferson would star in this for more than 30 years); author and humorist Samuel Langhorne Clemens ("Mark Twain"), 29, published The Celebrated Jumping Frog of Calaveras County; sculptor John Quincy Adams Ward unveiled Freedman in honor of the freed slaves; humorist Henry Wheeler Shaw, 47, published Josh Billings: His Sayings; lawyer-poet William Ross Wallace, 46, published The Hand That Rocks the Cradle Is the Hand That Rules the World; poet Walt Whitman, 46, published his collection of Civil War poems, Drum Taps; and Mary Mapes Dodge, 34, published the juvenile Hans Brinker; or The Silver Skates. Poet Henry Wadsworth Longfellow, 59, published the first volume of his translation of Dante with a superb sonnet sequence on The Divine Comedy.

Popular periodicals included the Atlantic Monthly (edited by James B. Fields), Niles' Weekly Register, the American Journal of Science, American Farmer, Christian Watchman, Saturday Evening Post, National Preacher, Godey's Lady's Book, Ladies' Repository, Peterson's Ladies' National Magazine, Home Journal, Home Monthly, Frank Leslie's Illustrated Newspaper, Frank Leslie's Boys of America, Harper's Weekly (edited by George William Curtis), Yale Literary Magazine, Carriage Monthly, Phunny Fellow, National Police Gazette, Illustrated Police News, and Scientific American. The Nation began publication as a weekly after editor Edwin L. Godkin was able to raise $100,000 ($1.2 million in 2006 dollars) to get it off the ground.

The songs "Marching Through Georgia" by Henry Clay Work, "Battle Hymn of the Republic" ("John Brown's Body"), "Hang Jeff Davis to a Sour Apple Tree," "The Old Grey Mare (Get Out of the Wilderness)," and "When Johnny Comes Marching Home" were popular among Union troops, and "I Wish I Was in Dixie's Land" (or "Dixie") was popular among Confederate troops. Other popular songs included "Where, O Where Has My Little Dog Gone?" "Clementine (Down by the River Lived a Maiden)," "Beautiful Dreamer," "Listen to the Mockingbird," "Jeannie with the Light Brown Hair," "Camptown Races," "Oh! Susanna," "Jim Crack Corn" (also known as "Blue Tail Fly"), "Turkey in the Straw," and "Amazing Grace."
The World at Large in 1865
The 2-year-old worldwide cholera epidemic continued.
The United States had refused to recognize the regime of the self-proclaimed Emperor of Mexico, Austrian archduke Maximilian, 33 (brother of Austrian Emperor Franz Josef, 35), who was a puppet of French government of Emperor Napoleon III, 57, and had impotently protested the apparent French takeover of Mexico in violation of the Monroe Doctrine, which the U.S. was too preoccupied with the Civil War to do anything about.
Confederate General Joseph Orville Shelby, 35, refused to surrender his "Iron Brigade" cavalry to Union forces; with General John Bankhead "Prince John" Magruder, 58, and a thousand troops, he marched to Mexico City in August and offered to Emperor Maximilian to enroll them in the Mexican foreign legion and then recruit an additional 40,000 Confederates to protect his regime. Maximilian turned the offer down, however, fearing that he might further affront his Mexican subjects. But he did grant some land to the rebels near Veracruz, and Shelby settled some 500 Southerners (with their slaves) in a new village of Carlota (named for Maximilian's wife).
Realizing that the United States, no longer preoccupied with its Civil War, could enforce its Monroe Doctrine, Spain withdrew from the Dominican Republic, which it had been governing for the past 4 years, ostensibly to protect it from an attack by Haiti.
Blacks in the British colony of Jamaica revolted in Morant Bay. The insurrection was quickly suppressed by Governor Edward John Eyre, 40, who ordered the execution of 450 natives, had many more flogged, and had some 1,000 native homes burned down. These actions created widespread indignation in Great Britain. Eyre was censured and dismissed, but representative government would not be restored for another 19 years.
Peru declared war on Spain, which had never recognized Peru's decades-old de-facto independence. Peru made alliances with Ecuador, Bolivia, and Chile.
A slave-owning colony of ex-Confederates was established in Brazil, in the state of São Paolo.
Paraguay made war against Brazil, Argentina, and Uruguay.
British Prime Minister Henry John Temple, Viscount Palmerston, died at the age of 80 and was succeeded by Lord John Russell, 73.
The ever-aristocratic London Times, which had always been extremely critical of U.S. President Abraham Lincoln, reversed itself in its obituary of the President:
Abraham Lincoln was as little of a tyrant as any man who ever lived. He could have been a tyrant had be pleased, but he never uttered so much as an ill-natured speech.… In all America there was, perhaps, not one man who less deserved to be the victim of the revolution than he who has just fallen.(37)

---

Quoted in Bailey et al., op. cit., p. 482. (Close)

---
Bowing to the lobbying of stage-coach operators, the British Parliament passed the Locomotives on Highways Act, also called the Red Flag Act, requiring steam-powered carriages to be preceded by men on foot carrying red flags. Further development of steam buses was stifled.
The London Metropolitan Fire Service was established.
English religious leader William Booth, 36, a pawnbroker from Nottingham, founded in Whitechapel the Christian Revival Association (which would later become known as the Salvation Army). According to Booth,
A man may be down but he's never out.
English athlete John Graham Chambers, 22, founded an amateur club to encourage boxing under the aegis of Scotland's Sir John Sholto Douglas, 21, 8th Marquis of Queensberry.
The 2-year-old epidemic of cattle disease (the "epizootic") in Great Britain, affecting mostly the Dutch milking cows, continued to boost meat prices and continued the boom in imported tinned meats from Australia. British dairymen made wider and more efficient use of milk trains, and they were developing water coolers on farms and at milk depots and transporting milk in tinned-steel churns.
A cholera epidemic struck Paris, killing some 200 people per day in September. Residents burned sulfur to try to combat the "miasma" in the air. Camille, the infant daughter of French chemist and microbiologist Louis Pasteur, 43, died in the epidemic.
King Leopold I of Belgium died at the age of 74 and was succeeded by his son, Leopold Louis Philippe Marie Victor, 30, who would rule as King Leopold II.
According to the Treaty of Gastein, disposing of the spoils of the previous year's defeat of Denmark, Austria was to administer Holstein and Prussia was to administer Schleswig. In return for a money payment to Austria, Prussia would administer Lauenburg.
The Norwegian Red Cross was founded in Christiana (Oslo), and the Swedish Red Cross was founded in Stockholm.
Edward Whymper reached the summit of the 14,780-foot Matterhorn in the Alps.
Florence replaced Turin as the capital of the Kingdom of Italy.
German adventurer Karl Klaus von der Decken, 32, who had been exploring eastern Africa and had proposed plans for a vast German colony there, was murdered by natives.
In South Africa, war broke out between the Boers of the Orange Free State and the Basutos.
Madagascar dropped its anti-European policy and welcomed missionaries and traders.
---
Nien Fei disturbance in China
Bandits under the name Nien Fei in Anhuei, North Kiangsu, and Shantung provinces continued their campaign of plunder, now 12 years old.
---
The Hong Kong and Shanghai Bank was founded in the British Crown Colony.
To provide shooting sport, Australian landowner Thomas Austin had 6 years earlier introduced two dozen English rabbits there; by now he had shot some 200,000 of the descendants of those two dozen, but had killed scarcely half the rabbits on his estate. Every five rabbits consumed more grass than one sheep.
Wellington replaced Auckland as the capital of New Zealand.
---
World science and technology
German chemist Herman Johann Philipp Sprengel, 28, developed a high vacuum mercury pump (which would later make the electric light bulb possible); Hungarian physician Ignaz Philipp Semmelweis, whose correct ideas about how infection is spread, died of puerperal fever at the age of 47; and English surgeon Joseph Lister, 38, applied carbolic acid to prevent infection in a wound, thereby inaugurating the era of antiseptic surgery.

French chemist and microbiologist Louis Pasteur, 44, succeeded in curing silkworm disease, thereby saving the French silk industry; and Russian neurologist Ivan M. Sechenov, 36, published Reflexes of the Brain, describing the physiological basis of psychic processes.

English geologist Henry Clifton Sorby, 39, invented a special microscope to study inorganic pigments; German chemist Friedrich August von Kekulé von Stradonitz, 36, described the ringed (closed-chain) structure of benzene to explain the structure of aromatic compounds; and German botanist Julius von Sachs located chlorophyll in the chloroplast cell structures.

English physicist James Clerk Maxwell, 34, published Treatise on Electricity and Magnetism.

German mathematician Julius Plücker, 64, invented line geometry; and Austrian botanist monk Gregor Johann Mendel, 43, elucidated the natural laws of heredity in a paper he read to the Brünn Society for the Study of Natural Science, establishing dominant and recessive traits, depending on certain basic units that would later be called "genes."

Irish mathematician William R. Hamilton died at the age of 60.
---
World philosophy and religion
English philosopher John Stuart Mill, 59, published Auguste Comte and Positivism; English economist and philosopher William Stanley Jevons, 30, published The Coal Question; and French political economist Henri Baudrillart, 37, published La Liberté du travail. English philosopher Herbert Spencer, 45, published Social Statics, teaching that the functions of the state should be limited to internal police and foreign protection--no public education, no limitation on the hours of labor, no welfare legislation, only laissez-faire. French political philosopher Pierre Joseph Proudhon died at the age of 56.
---
Arts and culture in the British Isles
Irish historian William Edward Hartpole Lecky, 27, published A History of the Rise and Influence of Rationalism in Europe; English historian Sir John Robert Seeley, 31, published Ecce Homo; dramatist Thomas William Robertson, 36, produced Society at the Prince of Wales's Theater in London; novelist Anthony Trollope, 50, published The Belton Estate and Essays in Criticism; art and social critic John Ruskin, 46, published Sesame and Lilies about reading, education, women's work, and social morals; poet and critic Algernon Charles Swinburne, 28, published his Greek-style drama Atalanta in Calydon; John Henry Cardinal Newman, 64, published the poem "Dream of Gerontius"; and novelist Lewis Carroll (Charles Lutwidge Dodgson), 33, published Alice's Adventures in Wonderland, with illustration by Punch cartoonist John Tenniel, 45, to entertain Alice Liddell, second daughter of classical scholar Henry George Liddell, 54, dean of Christ Church. Novelist Elizabeth Cleghorn Stevenson Gaskell died at the age of 55, and architect Joseph Paxton died at the age of 64.
---
World arts and culture
The Symphony in B minor ("Unfinished Symphony") by the late Franz Schubert was first performed in Vienna; Hungarian composer Franz Liszt, 54, produced the oratorio The Legend of St. Elizabeth in Budapest; Austrian composer Franz von Suppé, 46, produced the operetta Die Schöne Galathee in Vienna; and German Romantic composer Richard Wagner, 52, produced the opera Tristan und Isolde at the Royal Court Theater in Munich. The opera L'Africaine by the late German composer Giacomo Meyerbeer was produced posthumously in Paris months after the composer's death.

French art historian and critic Hippolyte Adolphe Taine, 39, began work on his La Philosophie de l'art, which would be completed in 4 years; French engraver and illustrator Paul Gustave Doré, 33, illustrated the Bible; and French Impressionist artist Édouard Manet, 33, exhibited Olympia, which many critics regarded as obscene. Austrian painter Ferdinand Georg Waldmüller died at the age of 72.

Austrian poet and painter Adalbert Stifter, 60, published Witiko; French novelist Louise de la Ramée (Ouida), 25, published Strathmore; and French science fiction writer Jules Verne, 37, published From the Earth to the Moon, predicting that the U.S. would lead the conquest of space.
Notes
The copyrighted material cited on this page comes under the definition of "Fair Use."
See also the general sources.
---