Christ's Lutheran Church in 1965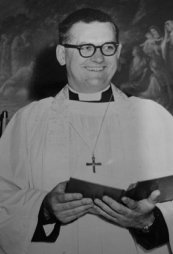 Pastor Norman C. Krapf, pictured here, conducting services. (To enlarge the picture, just click it.) There were 133 members (compared with 69 a decade earlier and 40 two decades earlier).
Pastor Krapf later had these reminiscences of his ministry:(1)
---
From Moseman, Magda, and Anderson, Mark, eds., Perspectives and Patterns: Christ's Lutheran Church, 1806-1976 [Woodstock, NY: self-published monograph, 1976]. (Close)
---
I remember my nearly eight years as Pastor of Christ's Church as a time of beginnings. It was my first parish. I was married during my ministry there. Gwen and I became parents in 1965 when Caroline was born at Benedictine Hospital. It was a time of change. The LCA was born. A new parish education curriculum and Service Book and Hymnal was introduced. New members joined with existing members to maintain and advance our life and work.… It was a time when deep friendships were made.… I recall the many deep relationships with so many which remain among the richest treasures of my ministry at Christ's Church. Above all, I rejoice with you in Christ because he enabled us to come together, sharing joy and sorrow, as we sought to render service together, in His Name.…
Here are some later reminiscences(2):
---
From Christ's Beacon, February 2006. (Close)
---
It was good to know the many fine people who were members… and this is the most significant recollection I have of my ministry there. I recall an emphasis on fundamentals, Baptism, worship. education, support of our life and work, catechetics, weddings and funerals.… Christ's Church was the first parish I served following seminary graduation.… I remember hearing a world traveler saying: "the Woodstock area is one of the most beautiful areas of the world." Upon gazing at Overlook Mountain…, I felt a sense of awe at its majesty and beauty. It was always a joy to look out of the parsonage window and see the mountain. In making pastoral calls, it was always an inspiration to view the natural beauty of Woodstock and the surrounding area as I traveled to and from the homes of those I visited. Many of the members I knew are now with the Lord. I remember them with thanksgiving and their contribution to the life and work of Christ's Church. I recall a colleague once saying: "that among the parishes I served in my ministry, there is something special about my very first parish and my service there." He was right. I still see and inexperienced Pastor moving into an area of inspiring natural beauty called to serve a parish and learning that yes, the Pastor molds the congregation but likewise the congregation molds the Pastor.…
According to church historian Mark Anderson,
It seems likely that the unique oil paintings [of Paul Wesley Arndt] at the front of the church [see the 1956 sesquicentennial celebration picture] were not aesthetically pleasing to several of the pastors after the mid-century. Clearly, there were also differences of opinion regarding the music then common in the church. A number of changes were made by Pastor Norman Krapf and his wife, Gwen.(3)

---

Quoted in Anderson, Mark J., For All the Saints: Christ's Lutheran Church, Woodstock, New York, 1806-2006 [Bloomington, IN: AuthorHouse, 2006], p. 153. (Close)

---
Organist Elsa Holumzer, 55 years old at that time and playing the electric Hammand organ at every service, later had these reminiscences:
[Pastor Krapf], a tenor, wanted a [better]… type music, called ours [no good]… and threw his issue on the floor. That riled not only our bass Edgar Shultis but the rest of the choir so they walked. I followed. This left us scouting for a substitute.(4)

---

Quoted in ibid., pp. 151-52. (Close)

---
For a short time, Gwen Krapf took on the work of organizing a new choir. Her Worship and Music Committee consisted of herself, Mrs. Karl Pellinat, W. Karl Pellinat, and Lawrence Deede. Doris Blatter was one of the new singers.
When I started with the choir, some of the members were Connie Koehn, Joan Donohue, Lynn Lawson, Irene Hartley, and Mike Gritman.(5)

---

Quoted in ibid., p. 155. (Close)

---
All unnecessary practice on the organ was stopped until repairs were made. The pastor was authorized to pay a temporary organist $3 per week ($18.21 per week in 2006 dollars). Three months later, on June 1, the council permitted the Worship and Music Committee to spend up to $213 ($1,293) to hire an organist for the rest of the year. Donald Reinhard, a talented young middle schooler, was hired for $600 per year ($3,642 per year); Mrs. C. Wengert was his assistant.
Mrs. Albert Holumzer offered $50 ($303.50 in 2006 dollars) cash for the small organ in the Sunday School room; the council decided to take the offer if there were no better.
"Will the real Christ's Lutheran Church please stand up!" Our church's name appeared in different places in different ways, and to obtain a mortgage for the new Fellowship Hall, the bank needed to find out which one was correct. A special meeting was held to correct the problem of the legal identity of the church(6):
---
Unless otherwise indicated in a footnote, excerpts from church records or from The Scroll are cited in ibid., Chapter 9. (Close)
---
Resolved: that the Lutheran Church called Christ's Church in the Town of Woodstock, Ulster County and State of New York; also called English Lutheran Church; Christ Church of the town of Woodstock; Christ's Lutheran church of the Town of Woodstock; and also spelled Christs's Luthuran Church; convey all their real & personal property to Christ's Evangelical Lutheran Church of Woodstock, Ulster County, New York, and that trustees, Albert S. Holumzer, Erwin Holumzer and Jean Wolf make application to the Supreme Court for this purpose and execute any and all instruments to complete such transaction.
Behind the church the congregation built the Fellowship Hall, which had long been needed for Christian educational and social activities. Construction was completed, and the building was dedicated. (The dedication coincided with the birth of the pastor's daughter, Caroline, so wife [Gwen] and baby could not attend.) The new building had flush toilets, obviating the need for the outdoor privy, which had been taken down the year before. (Click any one of the three pictures above to enlarge it.)
The council meeting of November 9 was canceled because of a power blackout in the Northeast.
The council resolved to help raise funds for "our" seminary (Lutheran Theological Seminary in Philadelphia).
The Woodstock Region in 1965
This is a placeholder for information on our region during this year. The information will come soon. The footnote at the end of this sentence is also a placeholder; please don't click it.(2)
---
This is a placeholder footnote. (Close)
---
The United States in 1965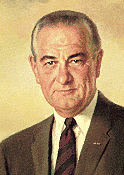 Lyndon B. Johnson (Democrat) was President. The newly elected 89th Congress was in session. A dollar in that year would be worth $6.07 in 2006 for most consumable products.
This is a placeholder for information on the United States during this year. The information will come soon. The footnote at the end of this sentence is also a placeholder; please don't click it.(3)
---
This is a placeholder footnote. (Close)
---
The World at Large in 1965
This is a placeholder for information on the world at large during this year. The information will come soon. The footnote at the end of this sentence is also a placeholder; please don't click it.(4)
---
This is a placeholder footnote. (Close)
---
Notes
The copyrighted material cited on this page comes under the definition of "Fair Use."
See also the general sources.
---