Christ's Lutheran Church in 2006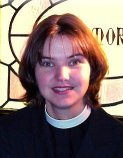 Pastor Sonja Tillberg (after her wedding in June, Paster Sonja Maclary), conducting services.
The congregation celebrated the bicentennial of its founding during this year. According to church historian Mark Anderson(1):
---
Quoted in Anderson, Mark J., For All the Saints: Christ's Lutheran Church, Woodstock, New York, 1806-2006 [Bloomington, IN: AuthorHouse, 2006], pp. 188-89. (Close)
---
The living history night [on March 18] included skits illustrating people and events from the history of the congregation. Written by Barbara and Michael Callahan, and produced and directed by Barbara, the play was so successful that portions of it were repeated for entertainment at the anniversary dinner [on May 6]. Our six-foot-tall Pastor Sonja Tillberg, suitably padded, made a surprise appearance as Pastor Quitman [compare the picture on the left with the picture here of Pastor Quitman on the right]. A nicely nuanced performance of the very capable but shy and self-effacing Helen Lasher was provided by Lois Ostapczuk, who drew great applause from the audience.

Joan Bryant worked hard to coordinate with a company to produce commemorative plates which used a stylized version of a favorite drawing of the church.

Frank Turmo, head of the church property committee, organized a series of work days to get the buildings and grounds in excellent shape. Frank also arranged for Andrea Barrist Stern to publish an extensive article on the history of the congregation in the February 23, 2006 issue of the Woodstock Times. Wonderful chocolate coins and a commemorative U.S. Post Office cancellation, and stamps for post cards were also items that Frank accomplished for the celebrations.

A carefully edited and restored photograph of the congregation and church was turned into stationery that became available in local shops as well as in the church. This project was brought to fruition under the guidance of Barbara Pickhardt and Barbara Callahan.

Barbara Kortrey took on the enormous task of organizing an address database of all the present and former members of the congregation. She did this while simultaneously establishing a mission endowment for the church!

I prepared a pictorial calendar with a listing of events from the first century of the congregation's history. A second calendar is being prepared for 2007 (to be available in December 2006) including events from the second century of Christ's Church.
On Saturday afternoon, May 6, Lois Ostapczuk organized an
informal get-together at the Woodstock Wonderworks [playground at the Woodstock Elementary School]. Friends who had not seen each other for years in some cases were reacquainted. Stories from the time apart, as well as memories of time spent together at Christ's Lutheran were shared, along with a lot of laughter. And the playground was a hit with the kids!(2)

---

Quoted from Christ's Beacon, June/July 2006, p. 4. (Close)

---
According to Anderson,(3)
---
Quoted from Anderson, op. cit., p. 190. (Close)
---
Also by May 6th, Frank Turmo and Merritt Rose had carefully removed a "time capsule" from the masonry wall of the church foundation. The capsule had been placed there by the children of the church on May 3, 1981 [the 175th anniversary of the church]. Many of those same children were now able to bring their children from the gathering at the school to see a remarkable display of the items of memorabilia that Frank arranged in the back of the church.

[In a reprise of the 170th anniversary dinner in 1976, the Anniversary Gala Dinner] was hosted by the youth group at Overlook Methodist Church. One-hundred and twenty members, former members, friends, and guests enjoyed the dinner in May. Deb Kress designed dinner invitations and Barbara Kortrey mailed all of the invitations. Janet Van Buren had worked hard for many weeks to make sure that there were seats for everyone who had reserved a place. The master of ceremonies was Bob Barrette who returned from his retirement home in Virginia for the occasion. As well as Barbara Callahan's play, the entertainment included music by Faithful Folk (and the congregation!), and a narrated slide show of the historic photographs and pictures.… Greetings were brought to us by Reverend Robert Wollenberg, assistant to the Bishop of the Metropolitan New York Synod. Julia Santos-Solomon, Eleanor Anderson, and Christine Dolan arranged a silent auction [including vacation time in Adirondack lakeside cabins, piano or computer lessons, suncatchers, dolls, a handwoven basket, original art, dinners] and other donations. Christine Downs prepared a very special 200th anniversary cake. It was a lot of fun and raised a considerable amount of money. The dinner was a tremendous success. Doris Blatter reported that her daughter suggested that we do it more often!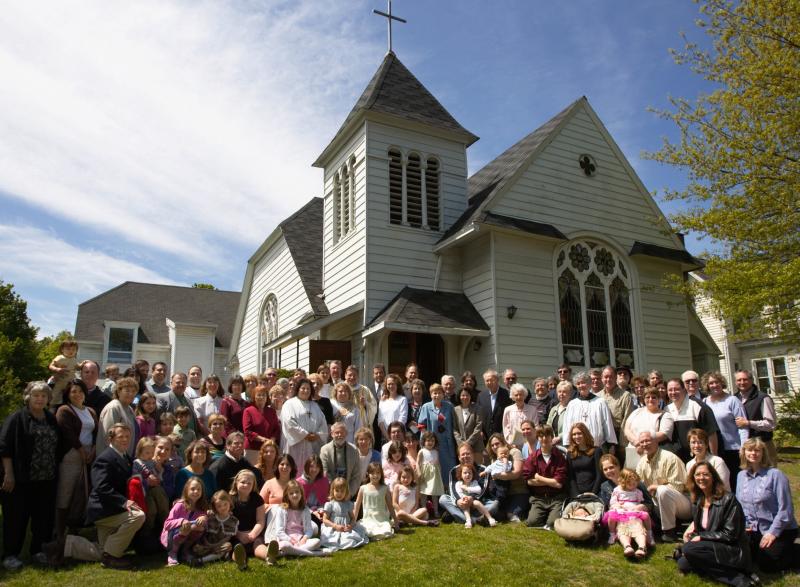 The culmination of the Anniversary weekend was a special worship service on Sunday morning, May 7, at which Bishop Stephen Bouman of the Metropolitan New York Synod presided. Woodstock Town Supervisor Jeremy Wilbur also attended and read a proclamation on behalf of the Town Council. Matthew Gillis took a photo of the congregation after the service (to enlarge the picture, just click it), and there was a brunch in Fellowship Hall that included a beautiful and delicious cake made by Marie Schussler.
The congregation also celebrated its bicentennial with a special honorary postage stamp cancellation (featuring the line drawing of the church and the words "Christ's Lutheran Church, Woodstock, New York, 200th ANNIVERSARY BICENTENNIAL, 1806-1906, March 1, 2006, Woodstock, NY 12498").
The following is a portion of the well wishes that former Pastor Norman C. Krapf, who served Christ's Church from 1960 to 1968, sent to our congregation(4):
---
From Christ's Beacon, February 2006. (Close)
---
I am grateful to God for the ministry I once shared with the members of Christ's Church and salute all of you who are now that community of faith in the very center of Woodstock. God bless you as you celebrate the 200th anniversary of the church we love and God prosper always the ministry you exercise in the name of our Lord and Savior, Jesus Christ!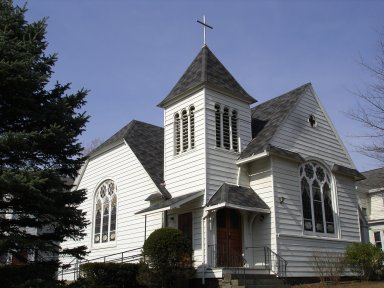 Above is a picture of the church today. To enlarge it, simply click it.
In May the Sacred Harp Singers from Kingston performed at the church the music of Lewis Edson, a member of our congregation during its first two decades.
Jim Ulrich, long a friend of the congregation, baritone soloist with Ars Choralis, and an expert in shape-note singing drew everyone into an evening of participating in the kind of music that the Edson family had brought to Christ's Church in the early years.(5)

---

Quoted from Anderson, op. cit., p. 192. (Close)

---
In June the church hosted its second concert:
Doris Blatter prepared a program of anthems that had been sung by choirs at various times during the last thirty-eight years [of her tenure with the church]. In addition to following an entire church year in song, having former choir members and returning college students made the program memorable.(6)

---

Quoted from ibid., p. 195. (Close)

---
Anderson gave further tribute to choir director Doris Blatter(7)
---
Ibid., pp. 162-63. (Close)
---
as well as to organist/pianist/singer Barbara Pichkardt:
During her thirty-eight-year tenure, Doris Blatter has managed with a small budget to acquire an excellent library of choral works that are both musically accessible and theologically sound. She maintains a record of all the hymns and anthems that are used each Sunday. As a result, the congregation has sung and heard an almost infinite variety of good music through these years.

Choir members from Christ's Church are usually among the singers in Ars Choralis, and for many years the Fellowship Hall has been the rehearsal home for the group. This chorus was founded in 1966. The membership comes from throughout the Hudson Valley. They have a constantly expanding repertoire and often sing in concert with other area groups, such as the Hudson Valley Philharmonic, the Woodstock Chamber Orchestra, and the St. Cecelia Chamber Orchestra. This group has toured in Europe as well. Every year they have an annual "Welcome Yule" concert during the Advent season. Barbara Pickhardt has been the director of this ensemble for more than 30 years. Doris Blatter is often a featured soprano soloist in their concerts. This group also has a close association with Holy Cross Episcopal Church in Kingston, NY.
Celebrating the bicentennial but looking forward to the next hundred years, the congregation established the Mission 300 Endowment Fund to reach out to serve the needs of others within the Woodstock community and throughout the world. The investment of fund assets in this permanent endowment are intended to preserve the Fund's long-term integrity while providing money for annual distribution to various programs and projects according to the following formula:
Up to 30% for ministries near and dear to Christ's Lutheran Church
Up to 30% for outreach to meet special needs of the local area of Woodstock
Up to 30% to meet special needs in partnership with the congregations of the Metropolitan New York Synod
Up to 30% for special international projects and ministries of the Evangelical Lutheran Church in America
Donors can make tax-deductible contributions through an outright gift of cash; a bequest in a will; gifts of stock, mutual fund shares, or other personal assets; gifts of real estate; making the fund a beneficiary on insurance policies or other investments; a charitable gift annuity, charity remainder trust, or other life income agreement; or a named memorial fund. According to Pastor Tillberg,
The congregation started this fund to strengthen its mission and outreach in the community of Woodstock and beyond. Any congregation, but small congregations in particular, often have limited yearly resources to fund projects like schools, outreach to the aging, disaster responses, and foreign mission. The Mission Endowment Fund is intended to help this congregation and its members reach out wherever there is need or call for the love of Christ.
Recipients of these funds are selected annually by the congregation.

In the autumn, the Sunday Church School was the first intrachurch organization to receive special recognition for their 100% support of the Mission Endowment Fund, and several other organizations were close behind. During this first year of the fund, many individuals and groups became Founding Members, raising over $35,000 in pledges and contributions.

Barbara Bambina was installed in January as a deacon, in charge of coordinating outreach ministries, leading Bible and cottage studies, and visiting the homebound and those in hospitals. She also filled in, when needed, for some pastoral duties, such as delivering an occasional sermon and leading worship.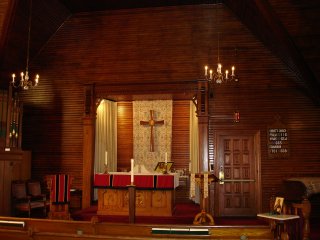 Above is a picture of the church interior today. To enlarge it, simply click it.
In May, the congregation celebrated its second annual Garden Day plant-sale fair and fundraiser.
In late June, Pastor Tillberg married Raymond Michael ("Mike") Maclary at St. Paul's Lutheran Church in West Camp, whose congregation hosted the brunch reception as well as the ceremony. Essentially, there were two congregations attending the wedding and reception, as well as family and friends. A special choir made up of members (current and former) of our congregation were led by Matthew Camara in a beautiful anthem during the ceremony. The pastor took on her new husband's name, as Sonja Marie Tillberg Maclary, but she told us she preferred to be addressed either as Pastor Maclary or as "Pastor Sonja." Naturally, she moved out of the parsonage to live with her new husband on Willow Lane in Saugerties.
The Parsonage Use Task Force was convened to decide with the Council on the best use of the parsonage, determining early on that no family in the congregation should be homeless while the parsonage was empty (thereby inviting unwelcome "visitors"). During the summer the Camara family was faced with a sudden need of housing and were allowed to live in the parsonage at least until August 2007, rent free (so the parsonage would not be put on the tax rolls).
Here is the "Fishers of People" message that Victoria Langling put in the summer's Christ's Beacon about the Daily Bread Food Kitchen:
Have you ever heard the expression, "Give a man a fish, he eats for a day; teach a man to fish, he eats for a lifetime"?

Now, I would like you to think about yourself and ask this question, "Is there anything that I have tried to learn and just couldn't?" Were you awful at learning another language, a sport (Like golf? Tell the truth, now! I've seen some of you golf!) Or was your challenge chemistry or (shudder) calculus?

And I would like to ask you this: What would you do if you had no safety net? No family. Where would you go? And who could you count on?

The actuality of the mission of Christ's Lutheran Church through the Daily Bread Soup Kitchen is that we have said, "Yes! We will take care of the people who will probably never be able to learn how to fish, we will take care of those people who do not have a support system." "Yes! We will help those people who are struggling with mental challenges, those who have made a conscious decision to live on the fringe, those stuck in a situation because of overwhelming medical bills, accidents or disabilities. Yes! Because of our faith and commitment, we will even help those that are just lazily working the system." (Personally, I deal with those lazy folks by looking at percentages. If a small percentage are scamming or stealing from us, but we can help everyone else… I can live with that.)

Lisa Scottoline wrote in one of her books about a "lawyer who wanted to Represent the poor, but didn't think she would actually Mingle with them" and Charlie Brown once said, "I love Mankind, it's People I can't stand."

So the reality of working in a hot, sweaty, stuffy soup kitchen is a long way from the idealized version of helping those in need. The reality is that some of the people smell bad, act worse and test your patience and your faith.

But who are we? Why do we come to church on Sunday? Do you go to nourish your soul and to re-commit each and every time to TRY and be a better person? A better Christian?

Almost 15 years ago, when Family approached Christ's Lutheran Church Council, outlining the need for a community soup kitchen, we agreed to see what we could do. Many congregation members came forward to offer their expertise and assistance. I remember Barbara Stephens carting me and my kids (still in their seats) to the (then) Fare Share Soup Kitchen (now Caring Hands) on Clinton Avenue. We drove, we researched, we tried to find the right site, the best hours and volunteers needed to staff and supervise this tremendous responsibility and commitment.

Our hours were developed around the Christian Day Nursery School and AA Group meeting times. Our method of providing soup was designed when it was determined we couldn't cook on site (an initial hurdle that became a blessing as we established valuable partnerships with area restaurants, other houses of worship and our friends and neighbors in Woodstock and beyond). Church members from A to Z have so generously offered their time. I am honored and grateful that you have supported us for almost 15 years, as we help our neighbors in need.

Christ's Lutheran has made a huge commitment to our community and WE NEED YOUR HELP to continue to fulfill that commitment. We know everyone is busy and that it can be a struggle to find time to accomplish everyday tasks, but if you have any time available, we would certainly appreciate your help, especially during June, and the hard-to-staff summer monts. An opportunity to give thanks to God for the many blessings in your life… and the fact that you "know how to fish."
Historian Mark Anderson has pointed out the confusion the congregation and visitors sometimes have with juggling the two books (the green Lutheran Book of Worship [or LBW] and the paperback With One Voice [or WOV]) and with the combination of liturgies(8):
---
Quoted in ibid., pp. 161-62. (Close)
---
The WOV seems to have been intended as an "add-on" to the LBW. A disadvantage lies in the tendency to try and interleave good and appropriate material from each book within a single service, with further additions included in the printed program. The juggling of books and the difficulty in following the printed programs has become something of a trademark of our services at the beginning of the twenty-first century. Doris Blatter has frequently resorted to making copies of material in order to relieve the choir of the task of carrying multiple books in procession and then finding the appropriate one at the right time.…

For better or worse, this difficulty may find another solution. For a variety of reasons, the ELCA is now promoting yet another new hymnal. This one is entitled Evangelical Lutheran Worship (ELW). It was to be made available at an introductory price in the autumn of 2006. Christ's Church participated in the evaluation of a few of the hymns during a period when the project was known as "Renewing Worship." This work furthers the language purification program that was started in LBW and continued in WOV. It will also probably continue to emphasize what the people do rather than what God has done and is doing.(9)

---

Anderson added the following footnote to this: "Critics of these developments are publishing an alternative liturgy and hymnal entitled Reclaim. Gracia Grindal is the editor-in-chief. It does not seem likely that this will supplant ELW, which has been approved by the ELCA, but it may serve as supplementary material for use by more 'conservative' congregations." (Close)

---

During the twentieth century, the congregation in Woodstock, like many other Lutheran churches in the United States, has been very much defined in its Lutheranism by an almost total reliance on the hymnals provided by synods. This will no doubt continue in the century to come, and we may expect to see a continued evolution in the faith of our parents. I note that "Faith of Our Fathers" was a Roman Catholic hymn that, in a Protestant revision, was first included in our 1958 hymnal [the Service Book and Hymnal, which our congregation acquired in 1963]. In the 1978 hymnal [the LBW, which our congregation acquired in 1979], the editors actually managed to excise one of the "fathers" and replace it with the generic "martyrs."
At the beginning of this year every member of the church council was a woman.
Ginny VerEecke, a former Roman Catholic nun and a lesbian living with another woman, had become an active member of our church during the previous year. During this year, she became an assisting minister. Here is her statement about her life's journey:
For some time, I had been struggling with accepting the fact that for me, there was no longer a meaningful familiarity in my Catholic Church. As a woman I was locked out of the ministry and as a lesbian there was even less acceptance. The decision to become a Lutheran has not been an easy one.… I am excited and looking forward to walking the Lutheran Testament of my life.… [This] past September, I started classes at an Interfaith Seminary.… I do believe that God… is calling me to be a Lutheran.(10)

---

Quoted in ibid., pp. 146-47. (Close)

---
Here is some of what VerEecke said about an interfaith dialogue:(11)
---
Quoted in Christ's Beacon, September 1006. (Close)
---
As some of you know, I was a Catholic nun for a number of years. Since leaving the convent I would say that I have been on a continued quest to find an alternative way to "Follow Jesus." Part of this quest led me to Christ Lutheran and subsequently to becoming a Lutheran. As I opened my heart more to the love of God in my life, God's path took me to "One Spirit Interfaith Seminary."

It is the philosophy of One Spirit that many paths lead to God. It supports the concept of a more inclusive, integrated vision of spirituality. The opening of the dialogue and sharing of wisdom among leaders and practitioners of different religions have flowed into a new possibility for spiritual exploration. The inter-spiritual approach draws from the spiritual treasures found in the mystic heart of every great expression of faith.

"Grow spiritually and help others to do so; it is the meaning of life." Leo Tolstoy

Our basic texts this year were two books by Houston Smith: The World Religions and The World's Wisdom. In addition, there were many articles and books that added to our knowledge of both the World religions and the many ways God is manifested through these religions and their spiritual practices.

I discovered that all religions at their core teach the common values of the Golden Rule. These tenets also include peace, tolerance, compassionate service and love for all creation.

An awakening of transcultural, human, religious values has begun to take place throughout the world. The most fundamental contribution to this awakening is to cultivate the experience of our individual identification with the ultimate mystery of God. Against the background of centuries of religious hostility and the many current conflicts, a new movement has begun to spring up, a movement that calls for a harmonious spirit of open dialogue and exchange between the religious faiths of the world.

The hope for the future of this planet is written in the example of Jesus' life. The lives and teachings of Gandhi, Martin Luther King, Mother Teresa and the Dalai Lama are also examples of this hope which transcends the boundaries that have kept the world religious faiths either isolated or at odds with each other. The future depends on us.
Elsa Holumzer, 96, celebrated her sixtieth year as part of the Christ's Lutheran congregation. After receiving from Mark Davidson a certificate honoring her anniversary, she wrote the following letter to the congregation, which was published in Christ's Beacon:
Dear Members of Christ's Lutheran,

My heartfelt thanks to the congregation for honoring me with a mounted plaque for my 60 years as a member of Christ Lutheran.

Erwin, whom some of you might have known, and I were married 60 years ago on Mother's Day in Mt. Vernon, three months after his return from a 4½ tour of duty in the service of his country in WW II (where he also served as an aide to his chaplain in Japan). Woodstock's Christ Lutheran was the church of his youth, however, and was destined to become our church.

I soon became involved in church work as a teacher, pianist, treasurer of "The Fair Ladies" group, hospitality chairman, organist, started a youth choir and joined the adult choir. Erwin & I had one daughter, Julie, who regularly attended Sunday School, and was a member of the choir until her marriage.

I have known a lot of members in these past years, most now gone to another world. New faces have taken their place. The only constant is the church building itself. Despite 200 years, it has changed little.

However, life does change. The years have slowed me down and now that I am approaching 96, I find that though the mind is willing and "raring to go," the flesh is not. I am happy to be able to get to service every so often.

To those who know me already, thank you for caring, and to new members, may we get to know each other.

May God bless you all, Elsa Holumzer (Mrs. Erwin Holumzer)
In September, the Stewardship Ministry, chaired by Eleanor Anderson, began the "Ventures" training program, working with a consultant and five other congregations to improve stewardship practices and education. The ministry also began creating a 3-to-5-year plan for goals and spending. In November members attended the second Ventures Workshop in Albany, led by Pastor Erika Kennedy of the Upper New York Synod.
The congregation ended the year with a small surplus rather than a deficit of funds.
The second annual yard sale was held at the end of September. The rain stayed away and the sale was a great success. The event was truly a team effort; everyone played a part: donating items, sorting and pricing, baking, setting up, serving drinks and goodies, selling, running to and fro, and packing up at the end of the day. Proceeds were $926, plus a challenge grant from Thrivent Financial for Lutherans through the Care in Congregations program.
The century-old not-for-profit Thrivent Financial for Lutherans--offering a broad range of financial products and services (including life insurance, annuities, mutual funds, disability income insurance, bank products) and sponsoring national outreach programs and activities that enable its members to demonstrate their care for others through support of congregations, schools, charitable organizations, and needy individuals--is sponsoring the construction of hundreds of additional Habitat for Humanity homes every year in the United States. Our Thrivent chapter (Hudson Valley) was selected to sponsor and support a Thrivent Builds project in Newburgh, one of the economically hardest hit areas of our region. As part of the project, our chapter needs to raise 10% of the cost of the designated house on Henry Avenue in Newburgh. 70% of the cost will be covered by Thrivent Financial and 20% by the local Habitat for Humanity affiliate. 50% of the volunteer hours need to be provided by Lutherans and of those hours, 25% need to be provided by Thrivent members (associate or beneficial). The Hudson Valley chapter received a Chapter of Excellence Award for their volunteer work.
On December 9, the Thrivent Builds house on Henry Avenue was dedicated and the keys presented to the new owners. Among the volunteers recognized at this event was David Adler for his work on the construction site (as well as his work on this Web site).
The Faithful Folk musicians (Tobias Anderson, Mark Anderson, David Anderson, and Ginny Barthel forming the core group) performed in Pearl River, NY, in a benefit for the American Cancer Society in Bronxville, NY, and in a "Disaster Relief Benefit Concert" (raising $4,100) in Gettysburg, PA, with three different drummers; at Gettysburg, they were joined by vocalists Heather Iverson and Rachel Elliot. Of course, they performed as well at the bicentennial celebration of our church, with bassist Mike D. joining in. In June they visited various communities on Long Island, with drummer Chris Losee.
Over the past couple of years, Faithful Folk has been on several tours of the northeastern U.S., and they have produced four CD recordings. Many of their concerts are part of efforts by local churches to raise funds for such things as food pantries, battered women's shelters, and relief efforts for disaster victims.
On November 18, Faithful Folk performed in the Thrivent-supported "Raising Hope Around the World" Care in Regions musical and visual artist extravaganza at the Colony Café in Woodstock, as part of the effort to raise money and awareness for a hospital in Matalgalpa, Nicaragua, the KEMPS teaching project in Tanzania, and in Kenya our Crossroads Springs orphanage and school for children who have lost a parent to AIDS. Other folk and jazz performers included Beth Abrams and Peter Einhorn, Ars Choralis, and Sara Kramer Harrison. There was a silent auction for one-of-a-kind paintings, hand-crafted textiles, photography, ceramics, jewelry, an acupuncture certificate, and autographed books. There was also a special recognition for our Deb Kress, who received Thrivent's 2006 Volunteer of the Year Award, Adult category, for the Northeast Region. The congregation baked and sold apple and pumpkin Thanksgiving pies to benefit the event, which raised over $800. Altogether the event raised over $3,300.
In the autumn Thrivent Chapter elections, David Adler was voted Financial Director, Pastor Sonja Maclary Congregational Service Team Director, and Tobias Anderson Communications Director.
On November 5, members and friends of Christ's Lutheran Church gathered for a special worship experience to commemorate the signing of the church's charter exactly 200 years earlier. Following the special worship service was a brunch in the Fellowship Hall co-sponsored by the Anniversary Ministry and Thrivent Financial for Lutherans.
The Community Thanksgiving Service on the Tuesday before Thanksgiving managed to raise $730 for the Heifer Project--enough to purchase a heifer ($500), a llama ($150), tree seedlings ($60), and a flock of geese ($20). The project is part of Heifer International (you can see their Web site), whose 60-year-old mission is to work with communities to end hunger and poverty and to care for the earth--specifically by giving families a source of food rather than short-term relief.
Tobias Anderson graduated from Lutheran Theological Seminary in Gettysburg, PA. David Anderson is studying organ at Concordia College in Bronxville, NY, and is the organist and director of music at the Greenbush Presbyterian Church in Blauvelt, NY.
You can find information on the continuing history of Christ's Lutheran Church by clicking "Next year on the church," below. (There will be no context history after 2006 for the Woodstock region, for the U.S., or for the world--but the CLC history just keeps getting made.)
The Woodstock Region in 2006
This is a placeholder for information on our region during this year. The information will come soon. The footnote at the end of this sentence is also a placeholder; please don't click it.(12)
---
This is a placeholder footnote. (Close)
---
The United States in 2006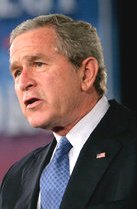 George W. Bush (Republican) was President. The 109th Congress was in session. (The midterm elections that year would elect the 110th Congress.)
This is a placeholder for information on the United States during this year. The information will come soon. The footnote at the end of this sentence is also a placeholder; please don't click it.(13)
---
This is a placeholder footnote. (Close)
---
The World at Large in 2006
This is a placeholder for information on the world at large during this year. The information will come soon. The footnote at the end of this sentence is also a placeholder; please don't click it.(14)
---
This is a placeholder footnote. (Close)
---
Notes
The copyrighted material cited on this page comes under the definition of "Fair Use."
See also the general sources.
---